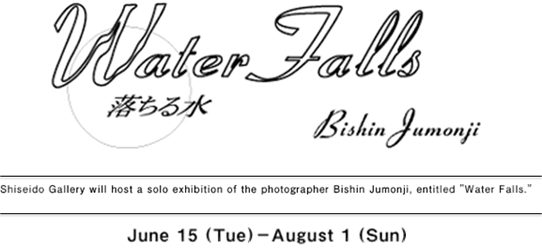 "Water Falls" is a sound and photo installation, comprised of photographs of famous Japanese waterfalls taken by Jumonji, dynamic sounds taken from those very waterfalls, and moving images of rainfall.

Photographs of four waterfalls will be exhibited on each wall of the gallery. Making full use of the gallery's ceiling height of almost 6 meters, the photographs will be hung from the top edge of the wall to the floor. The four waterfalls are: Kegon Falls in Tochigi, Shomyo Falls in Toyama, Unoko Falls in Kumamoto and Shindo Falls in Oita. Each waterfall is not an enlarged photograph, but a conglomeration of separate photographs. At first the viewer is likely to be overwhelmed by the dignified appearance of these waterfalls, but eventually, each photographic part may begin to look like abstract paintings. The individual parts of the waterfall, which are taken by an ultra-high speed camera captures the energy of water that cannot be seen with the naked eye. Jumonji's work is clearly different from commonplace landscapes that simply portray waterfalls, and captures the form and state of "falling water."

The installation will be accompanied by sounds of the waterfalls that were recorded with the cooperation of Sony Music Entertainment (Japan) Inc. The sounds, which are heard from the respective walls, eventually come together and fill the entire gallery space. At times, the sound of one waterfall may end abruptly to highlight the sound coming from another wall. The high quality sound system will create a live sound installation. Viewers will be suspended between dynamic sounds and occasional silence, an experience through which they will be able to appreciate the state of falling water.

There will also be fifteen LCD monitors placed by the staircase landing, each of which will show high-speed images of heavy rain falling onto different objects. These objects range from bicycle saddles, bare legs of a woman, or deck chairs. These lyrical images also capture the very nature of water.