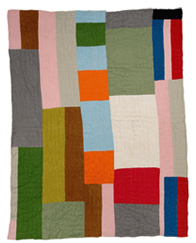 1940s-1950s Texas
cotton and flour sack back
213×168cm
Collection of Corrine Riley/Courtesy of Ricco/
Maresca Gallery
In 1975, at the opening of "THE GINZA," Shiseido presented an exhibit titled Americans Pieced Quilts, the first major exhibition of American quilting in Japan and an event that helped spark a quilting "boom" in Japan. Now, thirty years later, Shiseido introduces another new genre of beauty with a second quilting exhibition, this time featuring approximately twenty works by African-American quilters.

The quilts on display were created by women of African descent living in the American south. In contrast to the more orthodox quilting patterns traditionally used by European-descended quilters in the eastern and mid-western United States, those from the American south show a markedly different concept of beauty and aesthetic strength, particularly in their composition, color usage, and form-breaking dynamism and extemporaneity.

Simple, bold geometric compositions. A sense of asymmetry. Intense colors. A sense of lively "movement" created through the use of irregular stitching. An impromptu immediacy. With no models to work from and no repetitive reiteration — each quilt a one-time expression — African-American quilts have been compared to the music of jazz, another art form with ultimately African roots.Those early African-Americans, adapting to their encounter with a new language on a new continent, developed new musical forms like the harambee, spirituals, blues, and gospel, a corpus of musical expression that eventually evolved and refined itself to give rise to jazz. Like that music, the aesthetic expressions in these quilts also find their roots in that ongoing African-American experience.

The artisans, women with no formal artistic training, fashioned these quilts for their families using swatches of old clothing, fabric from discarded seed and fertilizer bags, and other miscellaneous bits of cloth. In the act of piecing together and sewing such works many undoubtedly discovered a certain quiet respite from their busy daily work, house chores, and childcare responsibilities, and it is not difficult to imagine the pleasure they took in the creativity of selecting and arranging the cloth pieces to their liking. We invite you to come experience for yourself the dynamic colors and rhythms, created with only needle, thread and cloth out of the daily lives of these African-American quilters, and entrusted with both their memories and their hopes.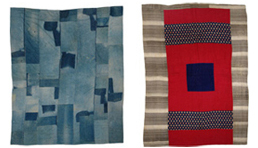 Left: 1940s Georgia denim 193×163cm
Collection of Corrine Riley/Courtesy of Ricco/
Maresca Gallery
Right: 1940s Alabama cotton,corduroy,rayon
201×157cm
Collection of Corrine Riley/Courtesy of Ricco/
Maresca Gallery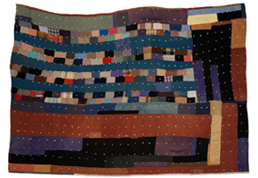 1930s-1940s Georgia wool and cotton 218×152cm
Collection of Corrine Riley/Courtesy of Ricco/
Maresca Gallery
■Exhibition Details for African American Quilts:
Women Piecing Memories and Dreams
Organized by:
SHISEIDO CO., LTD.
Guest Curator:
Yukiko Koide (Independent Curator)
Cooperated by:
Location:
Shiseido Gallery
Tokyo Ginza Shiseido Bldg., B1
8-8-3 Ginza, Chuo-ku, Tokyo 104-0061
Tel: 03-3572-3901 Fax: 03-3572-3951
Dates:
August 28 (Tue) - October 14 (Sun)
Hours:
Weekdays 11:00 - 19:00
Sundays & Holidays 11:00 - 18:00
Closed Mondays
Admission:
Free
■Quilt Talk - "Can quilting be considered an art?"
The Americans Pieced Quilts exhibition held on the 1975 opening of Shiseido's "THE GINZA" storefront featured pieces lent from the collection of Mr. and Mrs. Jonathan Holstein, many of them the same ones that had garnered major attention of the New York City art scene through the Abstract Design in American Quilts exhibition held at the Whitney Museum in 1973. The discovery in them of a sense of abstraction similar to that of the abstract expressionist painting that had become a mainstay of post-war art earned these textile pieces accolades, but at the same time also provoked a backlash of resistance to the idea of elevating "Grandma's bedcovers" to such an artistic context.

This debate from thirty-odd years ago recently played out again, with the Quilts of Gee's Bend exhibition, which featured pieces by African American women lauded in some quarters as "some of the most miraculous works of modern art America has produced," but drawing criticism from others skeptical about considering quilts to be works of art. It seems that even thirty years later the inclination to resist recognizing such everyday quilts created by ordinary women as "art" has not changed very much.