Shiseido Gallery has offered opportunities for up-and-coming expatriated Japanese artists, who might otherwise fall "under the radar" because of their residence abroad, to show their work in their native Japan. This time we are pleased to introduce the Paris-based Japanese artist Ai Kitahara.

After graduating from Tokyo' s Musashino Art University in 1990, Kitahara relocated to France, where she has studied at l'École des Beaux - Arts de Grenoble, l'Institut des Hautes Etudes en Arts Plastiques in Paris, and at l'École des Beaux-Arts in Nantes. While she now spends most of her time working in Paris, invitations to residence programs and exhibitions have taken her and her work to places throughout France. This exhibition at the Shiseido Gallery in Tokyo, titled Ai Kitahara — How We Divide the World, is her first solo show in Japan.

In her work Kitahara explores the many and diverse "borders" we find around us. It is natural that such borders exist, for we create the fabric of our society by establishing them—consciously or unconsciously—in myriad forms, from the walls, doors and fences that delineate our homes and buildings, to the roads we build to cut through and link spaces, to the cartographic divisions we establish between provinces and nations, and even including non-physical borders like membership in groups, communities, religions, races, and species. "Borders," in short, are everywhere. Paradoxically, however, this very ubiquity often leaves us unconscious of their existence.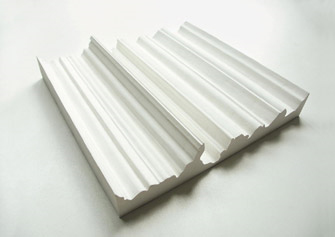 "Fifteen Square Meters of Border"maquette, franco-belgian, 2004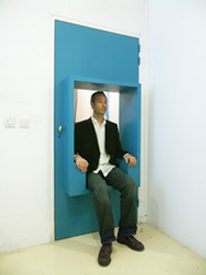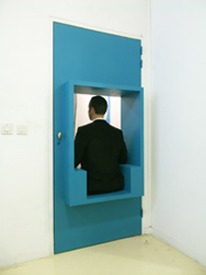 In How We Divide the World, Ai Kitahara introduces new works that explore two of the most conspicuous borders in our world: the large-scale "national borders" that contribute to dividing and defining world societies and, at the opposite end of the scale, "doors," an utterly common type of border that most of us personally experience nearly every day.

The center of the large exhibition hall is occupied by an 11 square-meters sculpture representing, in relief, the national border ridgeline between France and Belgium. Although these two countries share their common border, the way this border is perceived depends on from which side it is being viewed—an effect made clear by Kitahara's standing projections and depressions and the way these reverse themselves depending on the viewer's vantage point. The work is displayed oriented from the perspective within France, but it is designed to allow visitors to actually walk on top of it ("outside" of France, in other words).

The small exhibition hall is occupied by an unusual "door," which not only can be opened and closed, but also allows visitors to sit within it in order to experience, from its dual vantage point as a border, the two different spaces it separates.

These two works bring two different kinds of borders into our awareness and invite us to experience and consider their meanings.
These two main works are complemented by about thirty sculpture prototypes and drawings.

We hope that this exhibition will bring Ai Kitahara the exposure in Japan she deserves, supporting her future production efforts in a way that will give people in Japan more opportunities to experience and appreciate her work.

■Exhibition Details for Ai Kitahara — How We Divide the World
Dates:
Octber 23 (Tue) - December 23 (Sun)
Organized by:
SHISEIDO CO., LTD.
Supported by:
Sponsored by:
Location:
Shiseido Gallery
Tokyo Ginza Shiseido Bldg., B1
8-8-3 Ginza, Chuo-ku, Tokyo 104-0061
Tel: 03-3572-3901 Fax: 03-3572-3951
Hours:
Weekdays 11:00 - 19:00 (Closed Mondays)
Sundays & Holidays 11:00 - 18:00
Closed Mondays
Admission:
Free