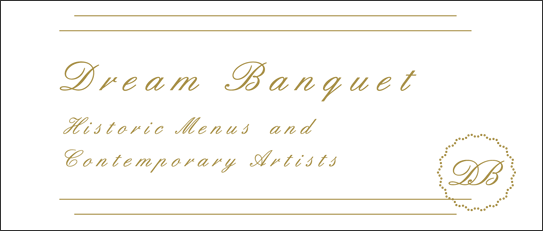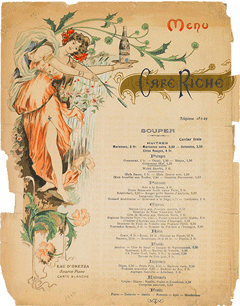 1900 CAFÉ RICHE A la carte menu
Courtesy of Hiroomi Tatematsu
Shiseido had held the exhibition "Menus of French Cuisine" from Mr. Hiroomi Tatematsu's collection when The Ginza was opened in 1975. The exhibition ended with a success with a favorable reception at that time. In more than 30 years, we find a lot of authentic French restaurants now in Japan. Also, Michelin Guide Tokyo was published last year, and people's interest toward gourmet is greater than ever. This time, at Shiseido Gallery, "graf media gm", the creative unit from Osaka known as its unique style of activities, will produce the exhibition based on the menus from Mr. Tatematsu's collection. With the historic French menus, "graf media gm", and the selected artists will turn the gallery space into a banquet room.

Mr. Tatematsu collects menus from 1553 of royal and noble banquets from all over the world. In those menus, we can find beautiful designs, interesting cuisine, and musical programs to go with the meal. From the contents, we can read the heart of OMOTENASHI (hospitality) of hosts and hostesses in those times. Mr. Tatematu's collection includes the hand written menu of the banquet held by Napoleon III, beautifully decorated menu in the belle époque, the menu from the banquet held at the Palace of Versailles when King George VI of England was invited to France in 1938, and the menu of the reception held at the Elysee Palace when the Emperor and Empress of Japan visited France in 1994 as the guests of the nation. Many of them are from historically and diplomatically very important banquets.

As this year, we celebrate 150 year anniversary of French-Japanese relations, we selected the menus from 1858 and exhibit them in the small room of the gallery, ground floor of Tokyo Ginza Shiseido Building, and in Shiseido Parlour. In the larger room of the gallery, we exhibit the works of the artists which are originally made for this exhibition.
■graf media gm
graf is the creative unit, with the concept of "structure for life", involved with space, furniture, lighting, graphic, product design, food, and etc. "graf media gm" is a section in "graf" which mainly handles art and culture. This exhibition, Chiako Kudo is responsible for the curation, and Hideki Toyoshima is responsible for the space construction.
■Participating artists selected by "graf media gm"
Umitaro Abe (music), Andreas och Fredrika (visual communication),
Kasetsu (Japanese calligraphy), Theatre Products (fashion), Yoriko Hoshi (man-ga),
Nanpushokudo (cooking unit), Mie Morimoto (photography).

Each artist creates element of the banquet such as music, tableware, interior decoration and etc., and with their works, "graf media gm" will create the banquet room in the gallery.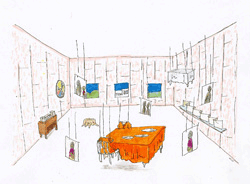 Venue image by Hideki Toyoshima (graf media gm)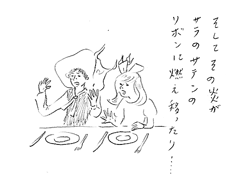 Yoriko Hoshi, Things and matters for the Banquet
■Exhibition Details for Dream Banquet Historic Menus and Contemporary Artists
Organized by:
SHISEIDO CO., LTD.
Supported by:
Embassy of France
150ème anniversaire des relations franco-japonaises
Cooperated by:
, and up, ogasawara-tei, gakushikaikan,
Grand Prince Hotel Akasaka, Hotel Okura Tokyo,
Kunihito Okuda
Location:
Shiseido Gallery
Tokyo Ginza Shiseido Bldg., B1
8-8-3 Ginza, Chuo-ku, Tokyo 104-0061
Tel: 03-3572-3901 Fax: 03-3572-3951

Dates:
June 24th (Tue) - August 6th (Wed), 2008
Hours:
Weekdays 11:00 - 19:00
Sundays & Holidays 11:00 - 18:00
Closed Mondays
Admission:
Free