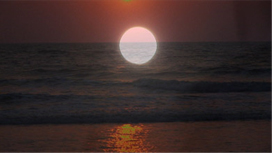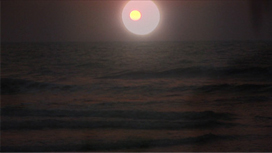 Kimsooja was born in 1957 in Taegu in the South Korea.
After she studied painting at Hong-Ik University in Seoul, she went to Paris on a French government scholarship to attend the Lithography Studio at the Ecole Nationale Superieure des Beaux-Arts. From 1992, she went to New York as an artist-in-residence for the International Studio Program of P.S.1. Since then, she has been working internationally as she took part in Istanbul Biennale in 1997, "Cities on the Move" exhibition in 1997-2000, Venice Biennale in 1999, 2001, 2005, and 2007. Her solo exhibition traveled from 2003 to 2004, which started at Lyon Contemporary Art Museum. She had her solo exhibition at Reina Sophia Museum in Madrid in 2006.

Kimsooja uses photography, installation, performance, and video as her ways of expression. In her installations, she often uses colourful traditional Korean fabrics which are used for bed sheet for the newly wed couple in Korea. The act of "sewing" has very important meaning to her. Especially in Korea, "sewing" is a women's job and referred as a symbol of femininity. She said that she discovered the power of sewing when she was stitching a bed sheet with her grandmother in her childhood.* Now, as an artist, she travels all over the world, she consider herself as a needle, and she stitch through/together the people, society, and the world.

"Bottari" is one of Kimsooja's representing works. It is made of the Korean bed sheet wrapping the old cloths. In Korea, there is a traditional custom to wrap things when people move or arrange their personal belongings. She thinks that "bottari" contains people's memories and lives.** Another important idea behind her work is the relation of ying and yang. The two do not necessarily oppose to each other but complement. Her works with Korean fabric express many different forms of ying and yang such as man and woman, life and death, joy and sadness, and prosperity and decline.

Kimsooja's newest work "A Mirror Woman:The Sun & The Moon" is a video work which she shot the sun, the moon, and the ocean in Goa, India. The Sun and the moon and high and low tide would be the perfect examples of ying and yang relationship. Also the sun, the moon, and the ocean control all lives on the earth. This work is a dynamic piece deals with nature.
(*p84, **p85, Catalogue of Kimsooja "Journey Into The World" National Museum of Contemporary Art, Athens 15.2-29.5,2006)
Kimsooja
Born in Taegu, South Korea in 1957. Lives and works in New York.
Selected exhibitions
2008
"Self/Other", The National Museum of Modern Art, Tokyo (1/18-3/9)
2007
"Mumbai: A Laundry Field", Kewenig Gallery, Cologne
Venice Biennale
"Void in Korean Art", Leeum Samsung Museum, Seoul
2006
"To Breathe-A mirror woman" (Respirar-una mujer espejo),
The Chrystal Palace, Museo Nacional Centro de Arte Reina Sofia, Madrid
2005
Yokohama Toriennale
Venice Biennale
2004
"Enlightment", Video Program, Jeu de Paume, Paris
2004-2003
"Conditions of Humanity", traveling solo exhibition, Museum Kunst Palast,
Dusseldorf, Padiglioned'Arte Contemporanea, PAC, Milan, from the Museum of Contemporary Art, Lyon
2003
"Kim Sooja", Zacheta National Gallery of Contemporary Art, Warsaw
2002
The 1st Busan Biennale
Whitney Biennial, New York
2001
"A Needle Woman", P.S.1 Contemporary Art Center/ MOMA, New York
Venice Biennale
2000
Lyon Biennale
Kwangju Biennale
"A Needle Woman", ICC, Tokyo
2000-1997
"Cities on the Move"traveling solo exhibition, Cesession, Vienna, Louisiana Museum of Art, Copenhagen,
Hayward Gallery, London, CAPC Bordeaux, KIASMA, Helsinki, P.S.1, New York
1999
Venice Biennale
"A Needle Woman" ICC
1998
Sao Paulo Biennale
1997
Istanbul Biennale
■Exhibition Details for Kimsooja "A Mirror Woman:The Sun & The Moon"
Organized by:
SHISEIDO CO., LTD.
Dates:
August 23rd (Sat) - October 19th (Sun), 2008
Location:
Shiseido Gallery
Tokyo Ginza Shiseido Bldg., B1
8-8-3 Ginza, Chuo-ku, Tokyo 104-0061
Tel: 03-3572-3901 Fax: 03-3572-3951
Hours:
Weekdays 11:00 - 19:00
Sundays & Holidays 11:00 - 18:00
Closed Mondays
Admission:
Free