The Shiseido Gallery in Ginza, Tokyo, and the Shiseido Art House in Kakegawa, Shizuoka are pleased to announce a dual-venue exhibition of the work of print artist Tetsuro Komai (1920–76), who is renowned for his pioneering work in copperplate printing and influencing the print art scene in the post-war period.

The Shiseido Gallery is proud to look back on a long and significant relationship with Tetsuro Komai, hosting both his first solo show and, by coincidence, his last participation as exhibitor in the Ku Nin no Kai (Group of Nine) exhibition in 1953, as well as other exhibitions in between. To commemorate the 90th anniversary of Komai's birth, a selection of his works from the collection of Shiseido's Honorary Chairman Yoshiharu Fukuhara, presently conserved at the Setagaya Art Museum, will be presented in this special double exhibition.

Tetsuro Komai was born in Nihonbashi, Tokyo in 1920, and began making his first copperplate prints while still in his teens. He attended Keio High School and studied in the department of oil painting at Tokyo National University of Fine Arts and Music (now Tokyo University of the Arts), but after graduating his passion turned even more toward researching and creating copperplate prints. At that time this medium was still not well known in Japan, but his efforts yielded a number of creative successes. In 1950 he submitted the first copperplate print ever to the Shunyo-kai artists association, winning the Shunyo-kai Prize for it. Komai's work was praised by Shikanosuke Oka, and in a single bound he was gathering the attention of the art world, both in Japan and abroad. He participated in the 1951 São Paulo Biennale, and was rewarded the "Japanese in São Paulo" Prize, followed by the International Second Winner Award at the Lugano International Print Biennale 1952. Through these efforts, Komai was instrumental in establishing copperplate printing as a new technical genre in Japan. During his years of activity he had many opportunities to interact with many other art world luminaries, also endeavoring to pass his art on to future generations and contributing greatly to post-war artistic culture.

Collector Yoshiharu Fukuhara attended the same school institutions as Komai, and during his six years at Keio Elementary School, his teacher Kogoro Yoshida, also a Christian scholar, often mentioned Komai's existence, naming him "your esteemed and respectable senior Tetsuro Komai." While Fukuhara never knew Komai personally in this capacity, and only met him once briefly in later years, he says that in his mind Komai became more than a mere print artist to him but rather someone whom he esteemed with a closeness much like that felt for an elder brother.


In 1960, the first artistic works Fukuhara purchased were Tetsuro Komai's La Maison Jaune (Yellow House) and Soleil d'Iris (Sun of Iris). Thereafter he continued to search out Komai's work, finding bits and pieces of it in antique book shops and similar places, buying those that seemed to resonate with him, until eventually he had amassed what could be called a proper "collection." In 2000 he offered the entirety of this collection to the public by entrusting it to the Setagaya Art Museum in Tokyo. A line in the agreement between Fukuhara and the aforementioned museum stated, "The museum shall respect the owner's intention that excellent works of art should be made public toward improving art and culture, and in this the museum is expected to take every opportunity to exhibit these entrusted works in an active effort to introduce their artistic merit more widely." This line is telling evidence of Fukuhara's strong belief that art, once possessed, should not be hoarded away and kept out of sight. Thereafter, the Fukuhara Collection in the Setagaya Art Museum has made a point of expanding even further, both in quality and quantity of works.

This exhibition will feature a selection of roughly 500 works by Komai out of the collection gathered over fifty years by Fukuhara and entrusted with the Setagaya Art Museum, and will show these in two locations, the Shiseido Gallery and the Shiseido Art House. The Shiseido Gallery will show about 100 colored works, mainly out of the monotypes, that were central to the Fukuhara collection, introducing the artist's use of color. It is said that fewer than twenty percent of Komai's prints were in color, and an even smaller number among these were monotypes, making this exhibition the largest ever for this type of content. At the Shiseido Art House, the exhibition will focus on Komai's monochrome works, known for highlighting "the beauty of forms in black and white," including about 150 pieces considered representative, significantly early, or created as book works in collaboration with various poets and authors.

We hope one and all will pay a visit to this exhibition, held to mark the ninetieth anniversary of the birth of copperplate printing pioneer Tetsuro Komai, and find in it an opportunity to see this fascinating genre of pictorial art from new perspectives.
Tetsuro Komai — Artist Profile
1920
Born in Nihonbashi, Tokyo
1938
Graduates from Keio High School. While still in school he learns basic techniques of etching
1942
Graduates Tokyo National University of Fine Arts and Music (now Tokyo University of the Arts), from the department of oil painting
1948
Joins the Nihon Hanga Kyokai (Japanese Print Society). Presents works including Kodoku na Tori (Solitary Bird) and Tsuka no Ma no Gen'ei (Momentary Illusion), helping to establish copperplate printing as an artistic genre on the post-war art scene
1951
Joins the Shunyo-kai. Begins to associate with authors and poets including Shuzo Takiguchi, Saku Sato, and Mizuho Aoyagi, and begins collaborating on numerous illustrated poetry anthologies
1952
Participates in the general arts group Jikken Kobo (Experimental Workshop), there meeting Takemitsu Toru and others
1953
First solo exhibition at the Shiseido Gallery in Ginza, Tokyo
1954
Travels to France to deepen his artistic studies, attending special workshops in burin technique at the École Nationale Supérierure des Beaux-Arts
1956
Marries. Meets Eureka poetry journal founder Tokuo Date, as well as Makoto Ooka, Tsuguo Ando, Norio Awazu, Minoru Nakamura and others, and begins to collaborate with Takehiko Fukunaga, Toshio Shimao, Kenzaburo Oe, and other literary luminaries producing illustrations and bindings
1959
Begins teaching at Tokyo University of the Arts, as well as adjunct positions at Joshibi University of Art and Design and Tama Art University, helping to lay the foundations for training students in print-making
1960
Creates illustrations for Yoshie Hotta's serialized novel Uminari no Soko Kara (From the Depths of the Roaring Sea)
1963
Injured in a traffic accident, incapacitated for a year recovering from two broken legs
1972
Joins the faculty of Tokyo University of the Arts
1973
Publishes A Collection of Copperplate Prints by Komai Tetsuro (Bijutsu Shuppansha), selecting all of the works himself
1976
Passes away at age fifty-six
Major Works
1935
Kashi (Riverbank),
1942
Ashiba (Scaffolding)
1950
Kodoku na Tori
1951
Tsuka no Ma no Gen'ei (Momentary Illusion)
1953
Bunkatsu Sareta Kao (Divided Face)
1958
Ki (Trees)
1960
Kiiroi Ie (La Maison Jaune, Yellow House)
1975
Boshi to Pin (Hat & Pin)
Awards
1950
Shunyo-kai Prize at the 27th Shunyo-kai Exhibition
1951
Japanese in São Paulo Award at the São Paulo Biennale
1952
International Second Winner Award at the Lugano International Print Biennale
1959
Nihon Hanga Kyokai Prize at the Nihon Hanga Kyokai's 27th Exhibition
1959
Bridgestone Art Prize at the 5th Japan International Art Exhibition
■Event Schedule
Gallery Talk by Yoshiharu Fukuhara
Date: 13 November (Sat), 2010, 1:00–3:00PM
Location: WORD Shiseido (Tokyo Ginza Shiseido Building, 9th Floor)
Panel Discussion with Toshiyuki Horie (novelist, French literature scholar, Waseda University professor) and Yoko Hayashi (Kyōto University of Art and Design associate professor)
Theme: "Tetsuro Komai: Works on Paper"
Date: 21 November (Sun), 2010, 2:00–4:00PM
Location: WORD Shiseido (Tokyo Ginza Shiseido Building, 9th Floor)
■Exhibition Details
★ Shiseido Gallery
Between the dark of Night and the Light An Exhibition of Prints and Paintings by Tetsuro Komai, From the Fukuhara Collection Commemorating the 90th Anniversary of the Artists Birth— In Adoration of Color
Duration: 26 October (Tue) – 19 December (Sun), 2010
Tokyo Ginza Shiseido Building, B1
8-8-3 Ginza, Chuo-ku, Tokyo 104-0061


★ Shiseido Art House
Between the dark of Night and the Light An Exhibition of Prints and Paintings by Tetsuro Komai, From the Fukuhara Collection Commemorating the 90th Anniversary of the Artists Birth— Melodies in Black and White
Duration: 29 October (Fri) – 19 December (Sun), 2010
Shimomata 751-1, Kakegawa, Shizuoka 436-0025

Organized by Shiseido in cooperation with the Setagaya Art Museum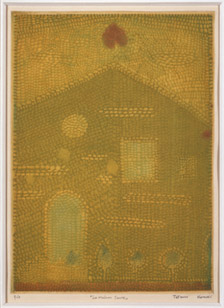 La Maison Jaune (Yellow House) 1960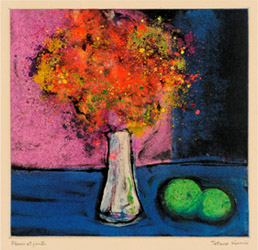 Fleurs et Fruits (Flowers and Fruits) 1973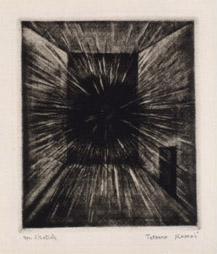 Radioactivity in My Room 1950