The "Tsubaki-kai" is a perennial artists' circle and exhibition group that originated in 1947 to mark the post-war reopening of the Shiseido Gallery. The name "Tsubaki" comes from the Japanese word for "camellia," the flower that has long been Shiseido's company symbol. (The suffix "-kai" means simply "gathering" or "group.") The membership of the Tsubaki-kai has changed at intervals over the years since its inception, with each group of artists' exhibitions representative of the Shiseido Gallery in each time period. The Fifth Tsubaki-kai, which ran through 2005, marked well over half a century of activity for the group.

The Sixth Tsubaki-kai, slated to get underway in 2007 (the group's sixtieth anniversary), will feature works by following new members;

members
Yasuko Iba, Chiharu Shiota, Masanori Sukenari,
Kyotaro Hakamata, Naofumi Maruyama, and Miwa Yanagi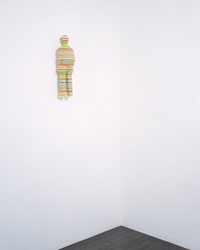 Kyotaro Hakamata Wanderer
51x16x12cm Acrylic board 2005
Photo: Tadasu Yamamoto, private collection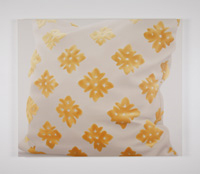 Yasuko Iba Untitled
75x90cm Oil on canvas 2006
Photo: Takako Yamada
These relatively young artists (all are in their thirties and forties, the youngest group in the Tsubaki-kai's history) are all currently earning recognition in the contemporary art world, and potentially among Japan's next generation of expressive leaders.
The Sixth Tsubaki-kai will run for three years from 2007 to 2009. Its group exhibitions during this time will each feature some combination of four of the six artists, creating a gradual "change of faces" aimed at lending notes of dynamism and freshness over time.
The Sixth Tsubaki-kai will also feature yearly exhibitions based on specific themes to be determined through interactive discussions among those artists showing their works that year. Already these discussions have resulted in the "Trans-Figurative" concept, which has become the overarching theme for the next three years. Referencing the two ideas of "going beyond (trans) specific forms (figures)," it symbolizes not only the participating artists' works, but also a transcendence by this group of the Tsubaki-kai of the past, and a transcendence by each individual artist of his or her current world-view. Naturally, there is also a strong possibility that these ongoing discussions will engender other new themes during the three-year period. In this way, the participating artists are not simply gathering beneath a pre-determined theme, but rather are actually creating that theme and building exhibitions accordingly as a result of their contact and interaction within the Tsubaki-kai. This approach being taken up by the Sixth Tsubaki-kai aims to bring new form and function to the "group show" format.

The first exhibition, "Tsubaki-kai 2007 —Trans-Figurative—," will present works by artists Yasuko Iba, Masanori Sukenari, Hakamata Kyotaro, and Miwa Yanagi.

Yasuko Iba is known for oil paintings with motifs based on everyday objects—such as "fruits" or "bedding"—rendered with a near-photographic sensitivity offering a feeling of concrete reality but also imbuing each with its own distinctly unique atmosphere. Masanori Sukenari creates three-dimensional works that connect intimately with the architectural space around them. Kyotaro Hakamata forms three-dimensional works based on his own personal definition of sculpture, namely "the creation of form in places where form would not ordinarily be." Miwa Yanagi uses photography, computer graphics, and video to create works centering on female and feminine motifs. Only the Tsubaki-kai offers opportunities to experience the unusual combinations that will be brought out by these artists working in tandem.

■Exhibition Details for Tsubaki-kai Exhibition 2007 ―Trans-Figurative―
Dates:
April 10th (Tue) - June 10th (Sun)
Location:
Shiseido Gallery
Tokyo Ginza Shiseido Bldg., B1
8-8-3 Ginza, Chuo-ku, Tokyo 104-0061
Tel: 03-3572-3901 Fax: 03-3572-3951
Hours:
Weekdays 11:00 - 19:00
Sundays & Holidays 11:00 - 18:00
Closed Mondays
Admission:
Free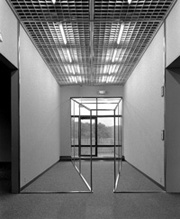 Masanori Sukenari
Run from the Ordinary #2
330x770x420cm Stainless 2004
Photo: Yamamoto Tadasu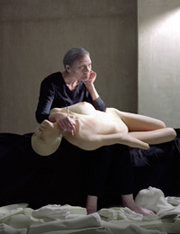 Miwa Yanagi Grandmothers: SHIZUKA
140x100cm Light Jet Print 2004