The "Tsubaki-kai" is a perennial artists' exhibition group begun in 1947 to mark the post-war reopening of the Shiseido Gallery. The name "Tsubaki" refers to the Japanese word for "camellia," the flower that has long been Shiseido's company symbol. (The suffix "-kai" means simply "gathering" or "group.") The first membership was comprised of seventeen artists, working in both Japanese and Western styles, who had been closely affiliated with the Shiseido Gallery, among them Taikan Yokoyama, Gyokudo Kawai, Ryuzaburo Umehara, and Riichiro Kawashima. With a membership that has changed with time over the past sixty years—a total of eighty artists have participated—the Tsubaki-kai exhibition groups remain an important Shiseido Gallery tradition. (See supplementary materials.) Over the years between then and now, these eighty leading artists have brought their great vitality and creativity to the ongoing pursuit of new beauty and expression, and among them represent the very flow of the post-war Japanese art world.


The Sixth Tsubaki-kai, which came together in 2007, is comprised of following six artist members;
members
Yasuko Iba, Chiharu Shiota, Masanori Sukenari,
Kyotaro Hakamata, Naofumi Maruyama, and Miwa Yanagi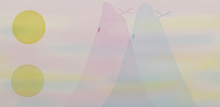 Naofumi Maruyama
moon and sun
Acrylic, cotton 2007
Courtesy: SHUGOARTS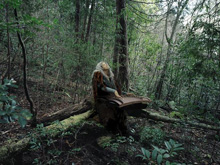 Miwa Yanagi
My Grandmothers:TSUMUGI
Light-jet print 2007
Over the three-year period from 2007 to 2009, these six will take turns exhibiting together in combinations of four, with the lineup changing partially each year. This approach has been adopted to boost the sense of creative tension within the group while also keeping its activities fresh and vital.
The Sixth Tsubaki-kai is also attempting to bring new levels of active artistic collaboration to each exhibition. This collaboration began very early on, including discussions among the six members leading to the decision to add the title"Trans-Figurative" to all of the group's exhibitions to impart a sense of conceptual coherence and an overarching theme. Comprised of "figure" (meaning "shape," "form" or "image") and "trans" (referring to "transcending" and "going beyond"), this title was chosen to symbolize both "going beyond the Tsubaki-kai of the past" and stimulating each participating artist to "go beyond his or her normal sphere through interaction with others."

The four exhibitors in 2008 will include;
Chiharu Shiota, Kyotaro Hakamata, Naofumi Maruyama, and Miwa Yanagi.

Chiharu Shiota's work includes performance and installation works imbued with the artist's sense of internal uneasiness, impatience, and irritation. Kyotaro Hakamata's works consider the concept of "form" in all its elements, often featuring shapes placed in unusual and unexpected locations.
Naofumi Maruyama uses a staining technique to paint with acrylics in pastel-like shades and simplified forms reminiscent of Chinese ink painting.
Miwa Yanagi uses computer graphics and video to capture realms of "femaleness," for example
in her My Grandmothers series, which depicts a young woman's images of her grandmother, and in her Parables series, which focuses on stories told between young and elderly women.
Each of these artists will contribute to Tsubaki-kai Exhibition 2008, and visitors may look forward to experiencing how their artistic worlds have resonated with one another to create new realms of expression!

Exhibitors in 2009 will include Yasuko Iba, Chiharu Shiota, Masanori Sukenari, and Naofumi Maruyama.

■Exhibition Details for Tsubaki-kai Exhibition 2008 ―Trans-Figurative―
Dates:
April 10th (Thu) - June 15th (Sun), 2008
Location:
Shiseido Gallery
Tokyo Ginza Shiseido Bldg., B1
8-8-3 Ginza, Chuo-ku, Tokyo 104-0061
Tel: 03-3572-3901 Fax: 03-3572-3951
Hours:
Weekdays 11:00 - 19:00
Sundays & Holidays 11:00 - 18:00
Closed Mondays
Admission:
Free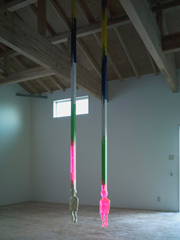 Kyotaro Hakamata
Famity Sticks; son and son
Plexiglas 2008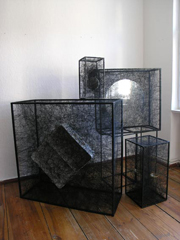 Chiharu Shiota
Trauma / Everyday
2008