The Tsubaki-kai is a group exhibition of artists that started back in 1947 to mark the post-war reopening of the Shiseido Gallery (which just marked its ninetieth anniversary this year). The name "Tsubaki" refers to the Japanese word for "camellia," the flower that has been Shiseido's company symbol for a long time. (The suffix "-kai" means simply "gathering" or "group.") The first Tsubaki-kai membership was comprised of seventeen painters, working in both Japanese and Western styles, who had been closely affiliated with the Shiseido Gallery, among them Gyokudo Kawai, Taikan Yokoyama, Ryuzaburo Umehara, and Riichiro Kawashima. Since that time the membership has changed with time, and by the time the Sixth Tsubaki-kai was formed in 2007, a total of eighty artists had participated (see appended list for details).


The Sixth Tsubaki-kai, formed in 2007, includes the six artist members;
members
Yasuko Iba, Chiharu Shiota, Masanori Sukenari,
Kyotaro Hakamata, Naofumi Maruyama, and Miwa Yanagi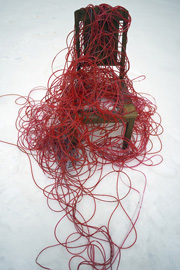 Over the past three years, the six artists in this incarnation of the Tsubaki-kai have taken turns exhibiting together in various combinations of four, with the lineup changing partially each year. This staggered approach was adopted to boost the sense of creative tension within the group and to foster new levels of active artistic collaboration and communication with each exhibition.

The subtitle "Trans-Figurative" was selected to lend an overarching theme and impart a sense of conceptual coherence to the exhibitions. It symbolizes both going beyond the Tsubaki-kai of the past to transform it into something new, and also having the participating artists take advantage of their mutual interaction to transcend their normal spheres of inspiration and expression.

For this final exhibition in the series all six will exhibit together for the first time, showing entirely new works.

Yasuko Iba will contribute a work featuring a new composition that includes oil painting on cushions. Chiharu Shiota offers a recorded performance piece that is her first video work in six years. Masanori Sukenari has taken advantage of the features of the gallery space to create a new sculpture. Kyotaro Hakamata contributes a sculpture work that combines colorful acrylic panels, wood, and other materials. Naofumi Maruyama has used staining techniques to paint tree motifs in acrylics. And Miwa Yanagi offers an objet piece once again after a gap of several years.


In addition to showing these new works, the six artists will exhibit a collaborative drawing, created by passing around a sketchbook, where each participant has contributed layers of drawings. Visitors are encouraged to have a look at this interesting work as well, to get a sense of some of the connections between these six artists and the experiences they have shared.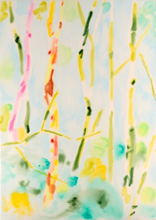 Naofumi Maruyama
a windy day
2010
Photo: Shigeo Muto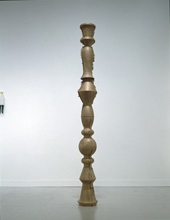 Masanori Sukenari
a Day of Birth
2006-2007
Shiseido Art House Collection
Photo: Tadasu Yamamoto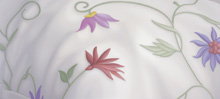 Yasuko Iba
Untitled 11-2009
2009
Private Collection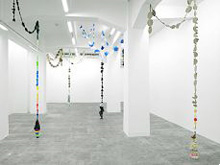 Kyotaro Hakamata
Smoke Man - Scatter and the others
2009
Photo courtesy of Gallery αM
Photo: Tadasu Yamamoto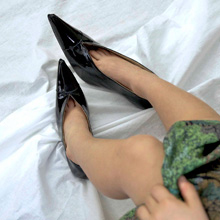 Miwa Yanagi
XXXS〜XXXL
2010
■Exhibition Details for Tsubaki-kai Exhibition 2010 ―Trans-Figurative―
Dates:
April 10th (Sat) - June 13th (Sun), 2010
Location:
Shiseido Gallery
Ginza Shiseido Building, B1
8-8-3 Ginza, Chuo-ku, Tokyo 104-0061
Tel: 03-3572-3901 Fax: 03-3572-3951
Hours:
Weekdays 11:00 - 19:00
Sunday & Holidays 11:00 - 18:00
Closed Mondays
Closed on May 3rd for Constitution Memorial Day, a national holiday
Admission:
Free