Past Exhibition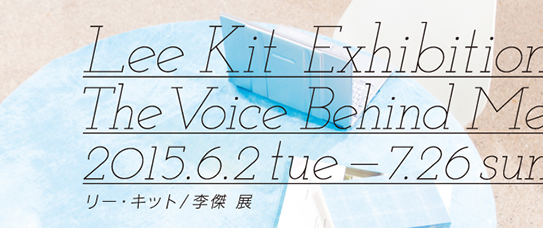 The Shiseido Gallery is pleased to announce that it will host an exhibition by artist Lee Kit from Hong Kong, currently based in Taipei. Titled The voice behind me, this exhibition will run from June 2 (Tue) through July 26 (Sun), 2015.
Lee Kit was born in Hong Kong in 1978. After studying Masters degree in Fine Art at the Chinese University of Hong Kong until 2008, he began participating in a wide variety of exhibitions both in Hong Kong and elsewhere. In 2013 he was selected to represent Hong Kong at the Venice Biennale, and was even noted in a Wall Street Journal article on the Biennale as "one of the five artists to watch." With increasing international attention, Lee participated in the 12th Sharjah Biennale (United Arab Emirates) in 2015, and he continues to be active with solo exhibitions planned for 2016 at the S.M.A.K. Museum of Contemporary Art in Ghent, Belgium and at the Walker Art Center in Minneapolis, United States.
Lee produces paintings on cloth and cardboard, ready-made items like lights and hangers combined with paintings, or sometimes combinations of video and paintings, and most often they are characterized by a quotidian sense of blending casually into the everyday. His works are easily recognized for their subtle pastel colors and seem to cast admiration on the everyday. Nevertheless, Lee's consciousness also extends to the societies and political situations he perceives around him. Another work, Scratching the table surface (2006–11) shows Lee's finger scratching his table at home in video and photos, and while this seems like a record of meaningless behavior, it couches a subtle criticism towards cities that have become obsessed solely with the pursuit of efficiency in the wake of high economic growth.
Lee's keywords for this exhibition include concepts like "fear," "solitude" and "breathing." In the background, many of these reflect frustration with political and social inequalities, the stresses that accompany daily life, and inescapable solitude. Lee himself has felt such feelings during his sojourns in many different cities—Hong Kong, Taipei, London, Tokyo, among others—and while such feelings may often be construed as negatives, Lee remarks that "being pessimistic is optimistic." This sort of flexible attitude is essential if one is to resist being beaten down by current conditions and to move forward with living. Even Lee's title for this exhibition, The voice behind me, contains an expression of this attitude, an acknowledgement of the familiar yet also alienating voice always in the background, a voice that is almost unbearable, but which one can only accept. Lee's idea seems to be that even in the face of obstruction, where one can hardly manage a deep breath, it is still possible to keep breathing, and in that there is hope.
This exhibition will show about ten works including Scratching the table surface and other past representative pieces to new ones including paintings on cloth with text, paintings on cardboard and video works created for the gallery's unique space. While Lee's works do not speak their messages loudly, they embody a refined wit. The Japanese public, having passed through its own period of high economic prosperity, are now standing at a turning point. Please look forward to this exhibition which includes some hints for the Japanese to cope with their current situation.
Lee Kit Profile
1978 Born in Hong Kong (now lives in Taipei)
2006 - 2008 Studied in Masters degree Fine Arts Course at the Chinese University of Hong Kong
Selected Major Solo Exhibitions
2015
We'll never go back again, Mirrored Gardens, Vitamin Creative Space, Guangzhou, China
2014
By the way, ShugoArts, Tokyo, Japan
'You.' – Response show of Venice Biennale, Cattle Depot, Hong Kong
2013
'You (you).', Venice Biennale, Venice, Italy
Not Swinging, Project Fulfill Art Space, Taipei, Taiwan
2012
'It's not an easy thing.', Arrow Factory, Beijing, China
House M, The Pavilion, Vitamin Creative Space, Beijing, China
'Can you puff that sound away?', Chi-wen Gallery, Taipei, Taiwan
'Every breath you take.', Min Sheung Modern Museum, Shanghai, China
2011
'Henry.' (Have you ever been this low?), Western Front, Vancouver, Canada
'How to set up an apartment for Johnny?', Osage Gallery, Art Statements, Art Basel 42, Switzerland
1, 2, 3, 4…, Lombard Freid Projects, New York, US
2010
'Well, that's just a chill.', ShugoArts, Tokyo, Japan
2009
Someone Singing and Calling Your Name, Osage Soho, Hong Kong
Suit-case, Galleria Dell' Arco, Palermo, Italy
2008
'My Pillow seems like a bed, a pillow seems like my bed.', Cheng Ming Building, The Chinese University of Hong Kong, Hong Kong
2007
3 / 4 suggestions for a better living, Para/Site Art Space, Hong Kong.
Selected Major Group Exhibitions
2014
Room Service, Staatliche Kunsthalle, Baden Baden, Germany
The Part In The Story Where A Part Becomes A Part of Something Else, Witte de With Centre for Contemporary Art, Rotterdam, The Netherland
2013
HUGO BOSS ASIA ART, Rockbund Art Museum, Shanghai, China
Asian Art Biennial, National Taiwan Museum of Fine Arts, Taichung, Taiwan
2012
The Ungovernables, New Museum, New York, US
Print/Out, MoMA, New York, US
2011
The Wedding Banquet, Para/Site Art Space, Hong Kong
Except why not just come right out and say it, Collector House, Heerlen, Netherlands
2010
No Soul For Sale, Tate Modern, London, UK
2009
Platform 2009, Kimusa site, Artsonje Center, Seoul, Korea
2008
Sprout from White Night, Bonnier Konsthall, Stockholm, Sweden
3th Guangzhou Triennial, Guangzhou, China
2007
Prison Art Museum, Victoria Prison, Hong Kong
Awards/Residences
| | |
| --- | --- |
| 2012 | Art Futures Award, Art HK, Hong Kong |
| 2007-08 | Wellington Asia Residency Exchange, Wellington, New Zealand |
| 2003 | Cheung's Fine Arts Award (painting), The Chinese University of Hong Kong, Hong Kong |
■Selected Works for Reference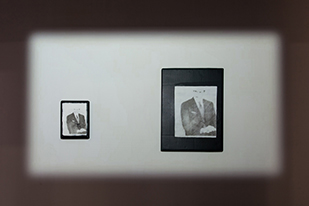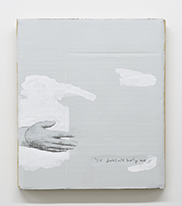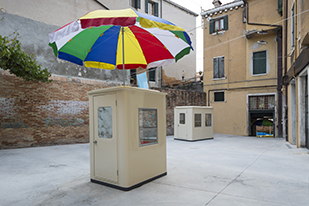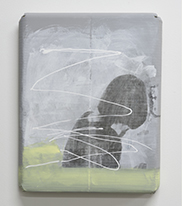 ■Related Events
(1) Lee Kit's Talk for the Press
*Japanese-English interpretation available.
Date :
June 2 (Tue), 2015 3:00 PM – 5:00 PM
Venue :
Word Hall, Tokyo Ginza Shiseido Building, 9th Floor
Capacity :
60 guests (selected by lottery if requests exceed capacity)
Participation Fee :
None
Inquiries :
Shiseido Gallery
Tel : 03-3572-3901
Fax : 03-3572-3951
Hours : 11:00 AM – 6:00 PM (Except Mondays)
(2) Lee Kit's gallery tour
Lee Kit will give a brief explanation about his works in the exhibition.
*Japanese-English interpretation available.
Date :
June 6 (Sat), 2015 2:00 PM – 2:30 PM
Venue :
Shiseido Gallery
Participation Fee :
None
■Exhibition Details for Lee Kit Exhibition — The voice behind me
Sponsor :
Shiseido Co., Ltd.
Cooperation :
Duration :
June 2 (Tue) to July 26 (Sun), 2015
Venue :
Shiseido Gallery
Tokyo Ginza Shiseido Building, B1, 8-8-3 Ginza, Chuo-ku, Tokyo 104-0061
Tel:03-3572-3901;
Fax:03-3572-3951
Hours :
Weekdays 11:00 AM - 7:00 PM,
Sunday & National Holidays 11:00 AM - 6:00 PM
Closed Mondays
(including July 20 which is a holiday falling on Monday)
Admission is free