Past Exhibition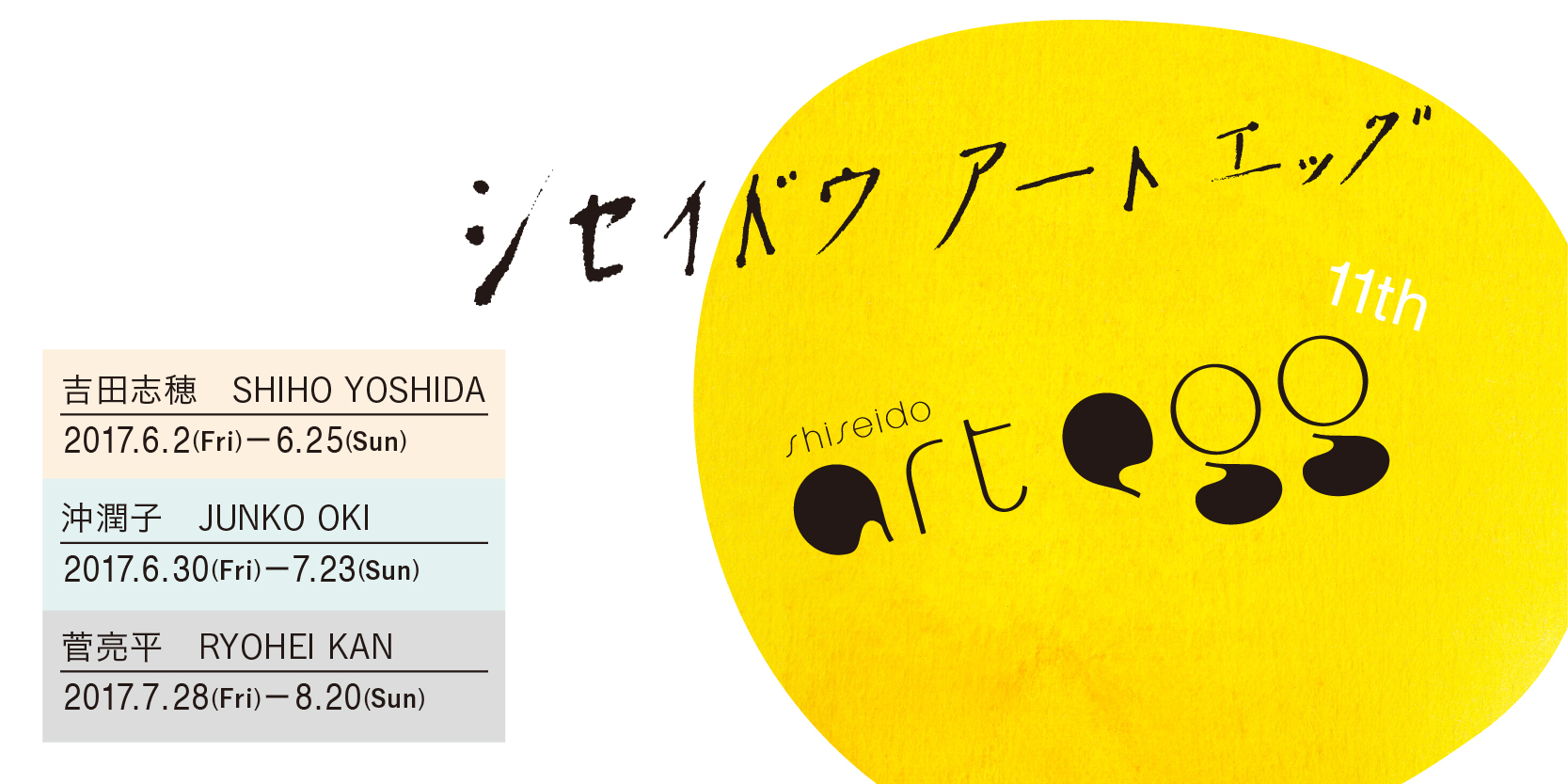 "shiseido art egg 11" Exhibition Announcement
For nearly one hundred years since its 1919 opening, the Shiseido Gallery's artistic activities have promoted Shiseido's corporate ideal of "discovering and creating new value." In 2006, the Gallery began the "shiseido art egg," a public exhibition program designed to support promising new artists. Each year, selected artists are offered opportunities to exhibit their work, and like any Shiseido Gallery exhibition these "art egg" exhibitions are planned and executed through interaction with a professional curator and the guidance of various specialists of the Shiseido Gallery staff.
For this year's 11th shiseido art egg, the Shiseido Gallery collected applications from 279 potential participants from all around Japan. About 80% of these were from artists in their twenties or thirties. Among the many who proposed very creative plans that would have taken good advantage of the Shiseido Gallery's space, three artists—Shiho Yoshida, Junko Oki, and Ryohei Kan—stood out and were selected for their rich artistic sensibilities and unique perspectives. These three artists will exhibit their respective works at the Shiseido Gallery in succession during the period June 2 (Fri) through August 20 (Sun). We hope one and all will visit the Shiseido Gallery to experience the fresh artistic visions these fine up-and-coming artists are bringing to the table.
Judges:

Aomi Okabe (Art critic and Shiseido Gallery advisor)
Tsutomu Mizusawa (Director of the Museum of Modern Art, Kamakura & Hayama, and Shiseido Gallery advisor)
Members of the Shiseido Corporate Culture Department
After all three solo exhibitions have finished, a three-member panel will select one of the exhibiting artists to receive the "shiseido art egg award." This year's panel will include Bijutsu Techo editor-in-chief Teiya Iwabuchi, artist Aiko Miyanaga, and architect Ryuji Nakamura. The winner will be announced in late September 2017 on the Shiseido Gallery website.
*The 10th shiseido art egg exhibitions ran February through April 2016; from this year on they will take place from June through August.
■Shiho Yoshida Exhibition <Photography>

June 2 (Fri) – June 25 (Sun), 2017 (21 days)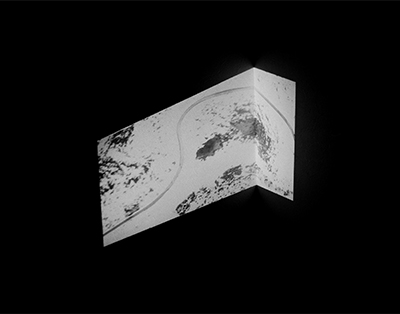 Survey/ Mountain, 2016
Lambda print
Variable size
Shiho Yoshida creates installation works that freely investigate the potential of photographs, which have by now become an integral and familiar part of our daily lives thanks to technologies like the Internet and smart phones. Yoshida's works blend photos she has taken herself with images culled from the Web, maintaining a focus on exploring the essence of the act of photographing and the material nature of printed photographs. The images in each individual photograph are transformed into spatial expressions fusing multiple images, thereby approaching a new dimension of photographic expression.
Shiho Yoshida
1992:
Born in Chiba prefecture, Japan
2014:
Graduated from Tokyo Polytechnic University, Faculty of Art, Department of Photography.
Currently living in Tokyo.
■Junko Oki Exhibition <Embroidery>

June 30 (Fri) – July 23 (Sun), 2017 (21 days)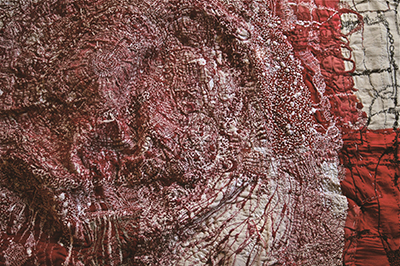 Midnight (partial), 2016
silk, cotton, silk thread, cotton thread
120 x 130 x 10 cm
Junko Oki creates finely embroidered works on old textiles using a distinctly personal style, one that seems to convey glimpses of the stories held within. She plies her needles over and through her fabrics, catching the time they have existed and the memories they hold to create "objets d›art" that are also imbued with a sense of coincidence. Fabric is a kind of skin, and Oki's creative process of piercing that skin to imbue it with memories feels very much like giving the old fabric new life. For this exhibition, she will be exploring unique new realms completely unbound by conventional genres of embroidery and craft.
Junko Oki
1963:
Born in Saitama prefecture, Japan
Graduated from Setsu Mode Seminar
2002:
After having worked at a planning company, set out to find her own style of embroidery.
Currently living in Kamakura, Japan.
■Ryohei Kan Exhibition <Installation>

July 28 (Fri) – August 20 (Sun), 2017 (21 days)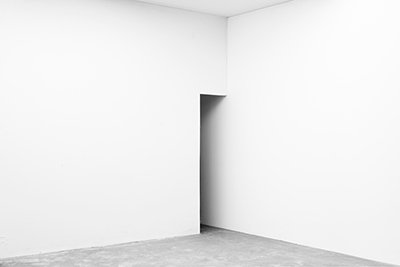 White Cube – 06
, 2013
Ink-jet print
100 x 150 cm
Ryohei Kan creates works based on the "white cube" motif common today in so many museum and gallery exhibition spaces throughout the world. Void-like spaces from which all pieces of art have been erased transcend beyond the exhibition space so that the image continues on without limit, endlessly. Kan's fictional "white cube" images fabricated in this way create maze-like illusions in the real exhibition space and thereby shake up our visual experience of viewing works of art therein.
Ryohei Kan
1983:
Born in Ehime prefecture, Japan
2016:
Ph.D., Oil Painting Course, Tokyo University of the Arts, Tokyo.
Currently living in Munich, Germany and Tokyo, Japan.
■"shiseido art egg 11" Exhibition Details
Organizer:
Shiseido Co., Ltd.
Exhibition Dates:

| | | | |
| --- | --- | --- | --- |
| Shiho Yoshida Exhibition | June 2 (Fri) | - | June 25 (Sun), 2017 |
| Junko Oki Exhibition | June 30 (Fri) | - | July 23 (Sun), 2017 |
| Ryohei Kan Exhibition | July 28 (Fri) | - | August 20 (Sun), 2017 |

Venue:
Shiseido Gallery
Tokyo Ginza Shiseido Building, B1
8-8-3 Ginza, Chuo-ku, Tokyo 104-0061
Tel: 03-3572-3901; Fax: 03-3572-3951

Hours:
Weekdays: 11:00AM–7:00PM
Sundays and national holidays: 11:00AM–6:00PM
Closed: Mondays (including national holidays falling on Monday)
Admission is free.