Outline
The "Tsubaki-kai" is a group show launched in 1947 with the reopening of the Shiseido Gallery following the wartime suspension of its activities. Named after the camellia (tsubaki) of the Shiseido symbol mark, and grounded in the belief that art has the capacity to offer hope and courage, Tsubaki-kai exhibitions have been staged even at times of post-war restriction, disaster and recession, out of a desire to help the world flourish once more. Serving as the main exhibition of the Shiseido Gallery for over 70 years now, and featuring a different lineup of artists in every era, to date the Tsubaki-kai has showcased the work of a total of 86 talented art practitioners.
This year will see the start of a new Tsubaki-kai, the eighth, consisting of work by Hiroshi Sugito, Ryuji Nakamura, Nerhol, Futoshi Miyagi, Aiko Miyanaga, and [mé]. Their cross-genre activities and collaborations, and team-based production, make all these artists especially representative of their era. Here at Shiseido Gallery, over the next three years to 2023 we will join them to ponder the possibilities and challenges of a post-corona "new world." 2021 will be designated the year of "Impetus," 2022 that of "Quest," and 2023 of "Culmination," with the participating artists identifying new questions as they follow the processes involved in addressing these three themes, over time delving increasingly deeper into those questions, and their respective responses.
Theme
This year, on the theme of "Impetus," the artists will select from the art collected by Shiseido at previous Tsubaki-kai exhibitions works that spark ideas around this "new world." By presenting what they have chosen from the collection, and their personal responses to it, via their own works and methods, they will attempt to bring new perspectives to the collection works, and create links between these, and the future. In 2022, the artists will work with each other and engage with experts in other fields in a "Quest" to explore questions and realizations from the first year, and present works arising from these interactions. The final year, 2023, will consist of an exhibition representing the "Culmination" of three years' activity.
A dedicated page will be set up for Tsubaki-kai 8 on the Shiseido Gallery website. This will be used to post information unable to be covered at exhibitions, as well as processes, documents and so on, all in the interest of facilitating communication with visitors to the exhibitions and the website.
The world in which we live is now at a major turning point. In uncertain, unpredictable times, art can give us courage, and hints of what the future might hold. At Shiseido Gallery we aim to make the Tsubaki-kai an open, welcoming place where artists and the viewing public can come together, and through dialogue share new values, and influence and inspire each other.
Eighth Tsubaki-kai Members
Hirsohi Sugito
Born 1970 in Aichi. Graduated 1992 from the Department of Japanese Painting, Aichi University of the Arts. Sugioto's paintings are characterized by their delicate colors and shapes, rhythmically placed, and simple motifs the likes of tiny houses, sky, and boats. His 2016 solo outing "particles and release" at Toyota Municipal Museum of Art saw him collaborate with architect Jun Aoki to configure the exhibition space, and for his first solo show at a Tokyo museum, "module or lacuna" in 2017, in response to the gallery space of the Kunio Maekawa-designed Tokyo Metropolitan Art Museum, he unveiled the 15-meter-long painting module. He undertook exhibition design for "Omni-Sculptures - The Scene of Emergence" at Musashino Art University Museum in 2021. Recipient of the 68th (2017) Minister of Education, Culture, Sports, Science and Technology Geijutsu Sensho art award.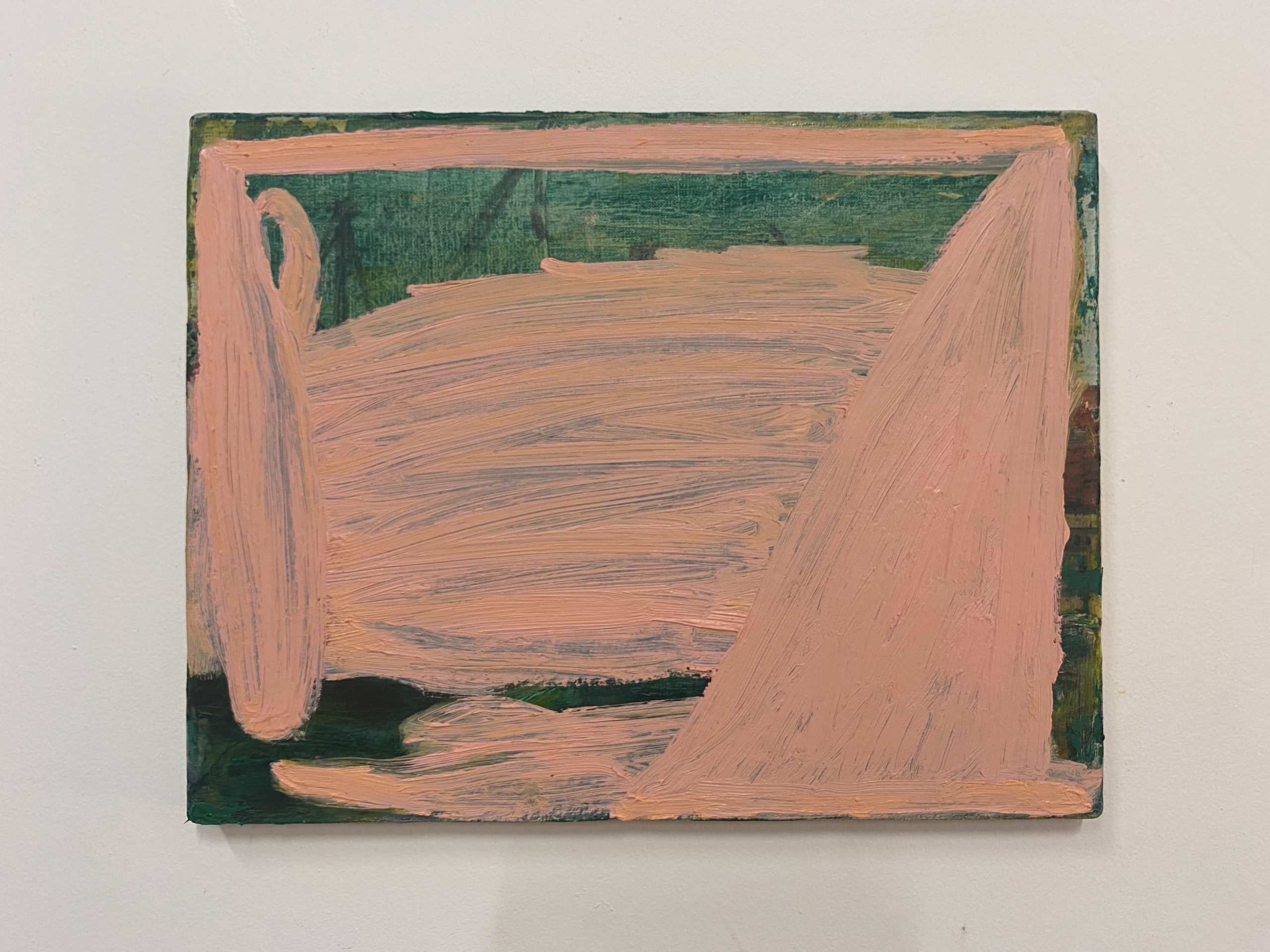 Ryuji Nakamura
Architect. Born 1972 in Nagano Prefecture. After earning his MArch at Tokyo University the Arts, and working with Jun Aoki & Associates, he established Ryuji Nakamura & Associates in 2004. Major works include Hechima (Collection The Museum of Fine Art, Houston, 2010 / San Francisco Museum of Modern Art, 2012), JINS Kyoto Teramachi-dori (2016), Kobe City Hall Citizens' Lobby (2017), "FormSWISS" exhibition space design (Tokyo/Kobe (2020/2021); and with Shiseido, exhibition space design for "Beauty Crossing Ginza: Ginza + La Mode + Shiseido" (Shiseido Gallery, 2016) and interior design for Shiseido Beauty Square (Harajuku, 2020). Group show participations include "Where is Architecture? Seven installations by Japanese architects" (The National Museum of Modern Art, Tokyo, 2010) and "Anti-gravity" (Toyota Municipal Museum of Art, 2013). Recipient of the 6th Kyoto Architectural Award (2018) and the 32th JIA Rookie of the Year Award (2020) among other honors.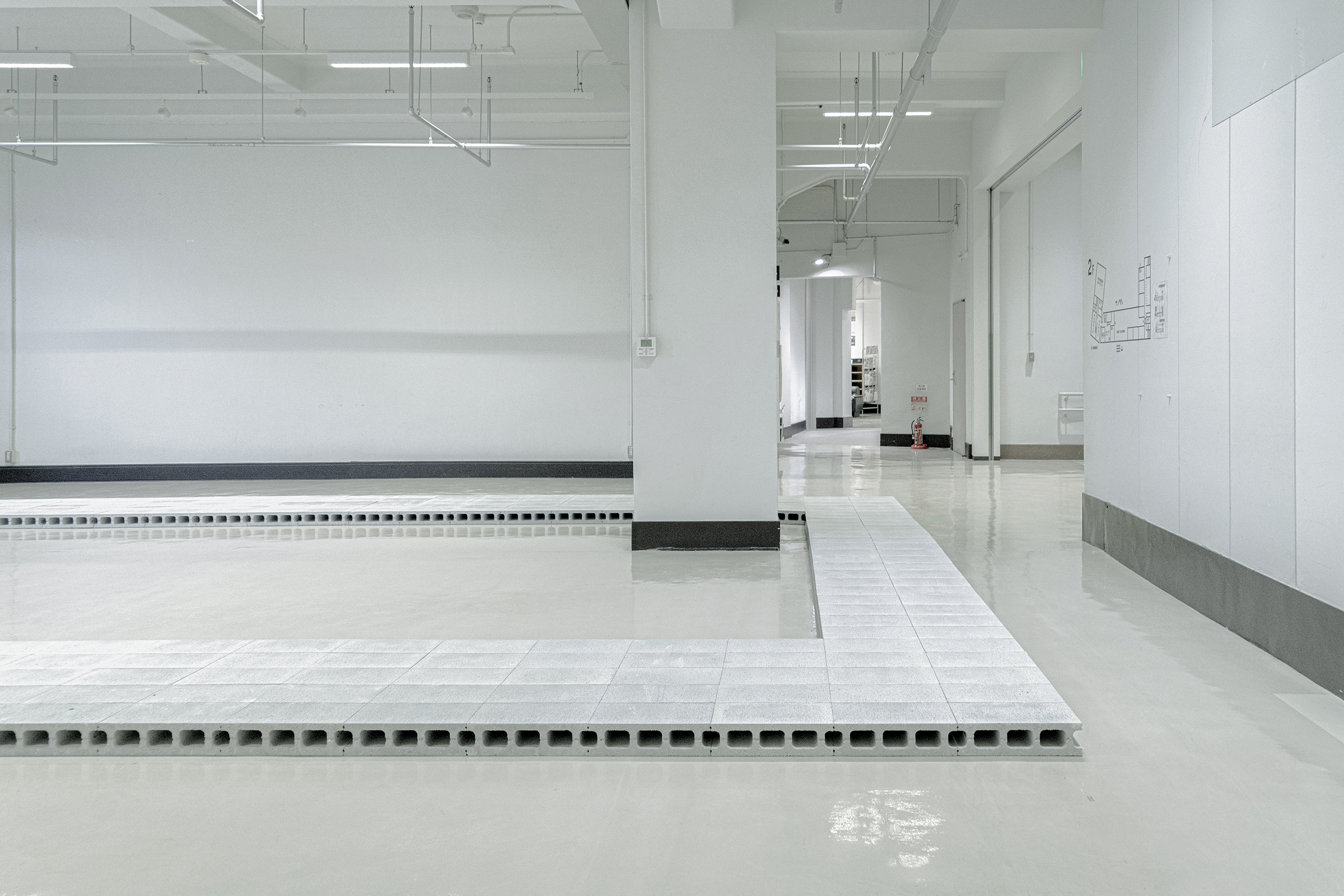 Nerhol
Artist duo consisting of Yoshihisa Tanaka and Ryuta Iida. Taking portraits, roadside trees, animals and water, as well as image data and recorded footage found on the internet as their source material, they have continued to develop their oeuvre of three-dimensional works created by carving into stacks of hundreds of photographs shot in rapid succession, the result of which are images that appear to distort even the very time axis of the subjects themselves. Such works have consistently engaged in an attempt to reveal the multilayered manner of existence harbored within organic entities, which often tend to be overlooked in the context of our day-to-day lives. Major exhibitions include "Interview, Portrait, House and Room" at the Youngeun Museum of Contemporary Art, Korea (2017) and "Promenade" at the 21st Century Museum of Contemporary Art, Kanazawa (2015). Recipients of the VOCA Prize in 2020.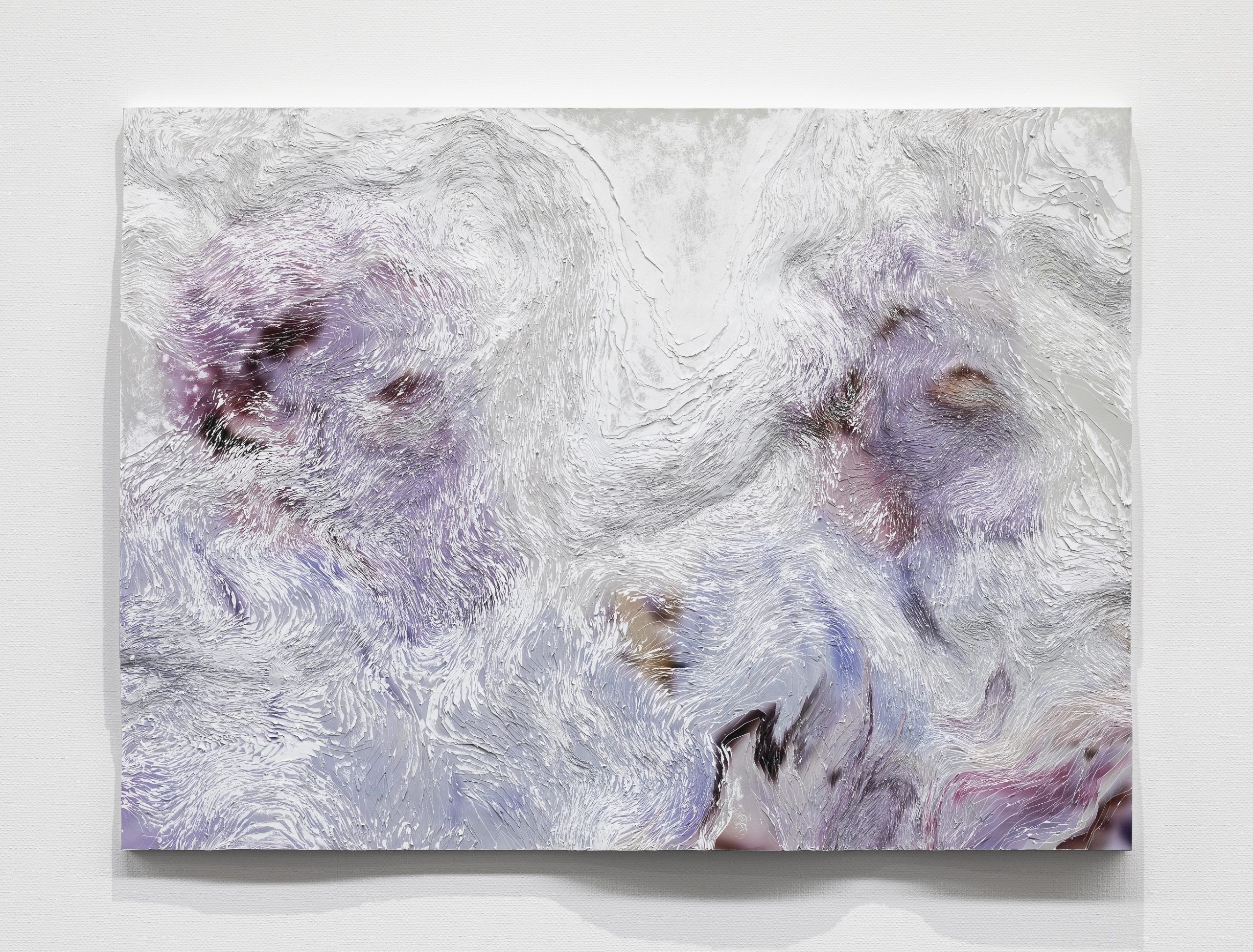 Futoshi Miyagi
Born 1981 in Okinawa. Graduated from The City University of New York in 2005. Major solo exhibitions include "In Order of Appearance" (miyagiya, 2021), "How Many Nights" (Gallery Koyanagi, 2017), and "American Boyfriend: The Bodies of Water" (Kyoto City University of the Arts Gallery @KCUA, 2014). His "American Boyfriend" project, launched in 2012, explores via artworks and talk events the relationship between an Okinawan man and American man falling in love in Okinawa. His works to date on subjects including his own identity, his native Okinawa, and American culture have taken the form of not only photographs and works on video but also novels.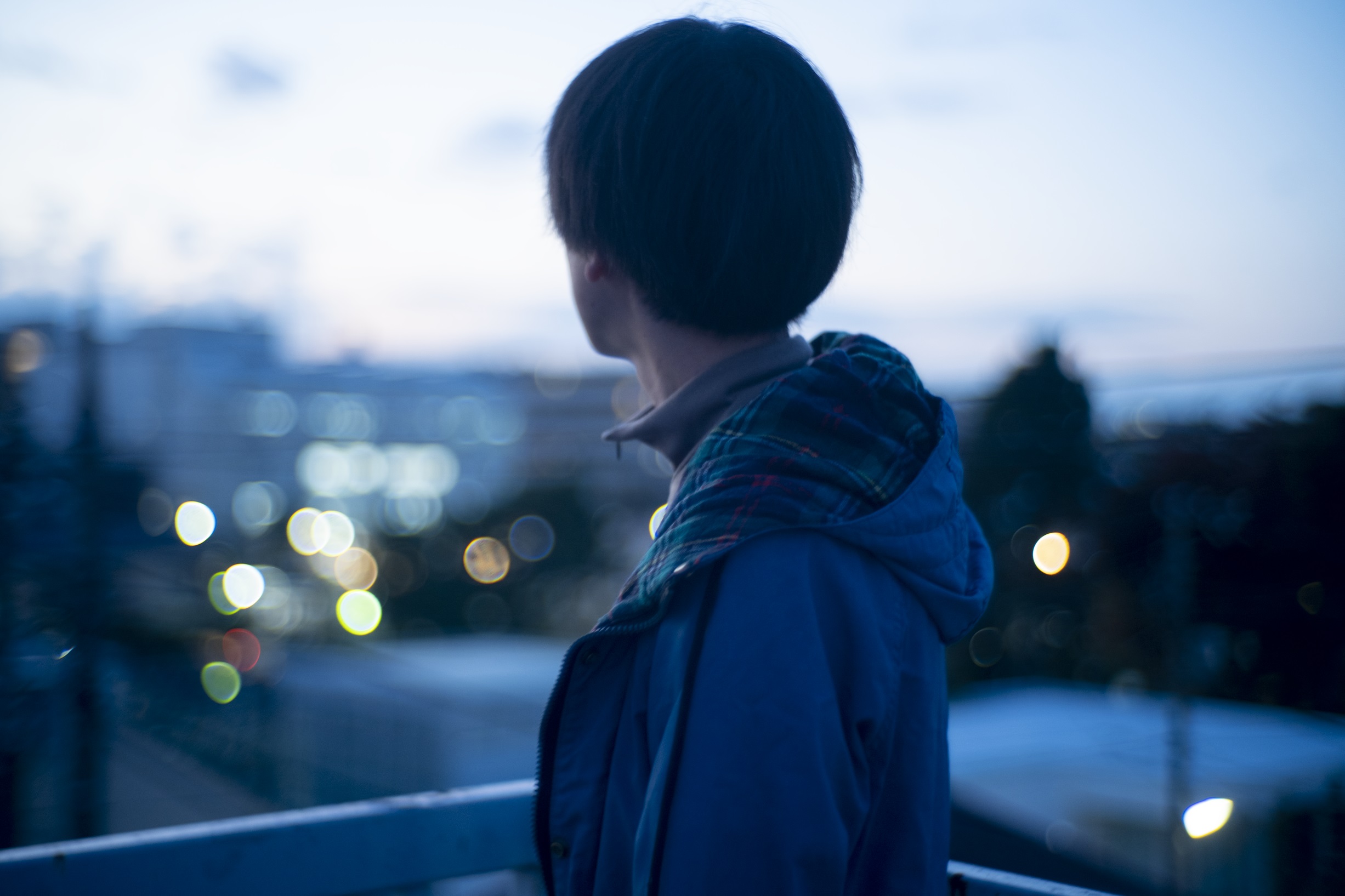 Aiko Miyanaga
Born 1974 in Kyoto. BFA in sculpture from Kyoto University of Art and Design; MFA in Intermedia Art from Tokyo University of the Arts. Miyanaga participated in the 3rd Shiseido Art Egg program. She spent a year in Edinburgh, Scotland on the 2007 Japanese Government Overseas Study Programme for Artists, and in 2011 winning the 22nd Gotoh Memorial Foundation emerging artist prize granted her a sojourn in the US and Latin America. Miyanaga has garnered attention with works that visualize the passage of time through traces left from everyday objects cast out of naphthalene and installations formed of crystallized salt. Recent solo exhibitions include "Utakata no Kasane" (The Museum of Kyoto, 2020) and "Rowing Style" (Takamatsu Art Museum, 2019). She is the first Tsubaki-kai member to have also taken part in Shiseido Art Egg.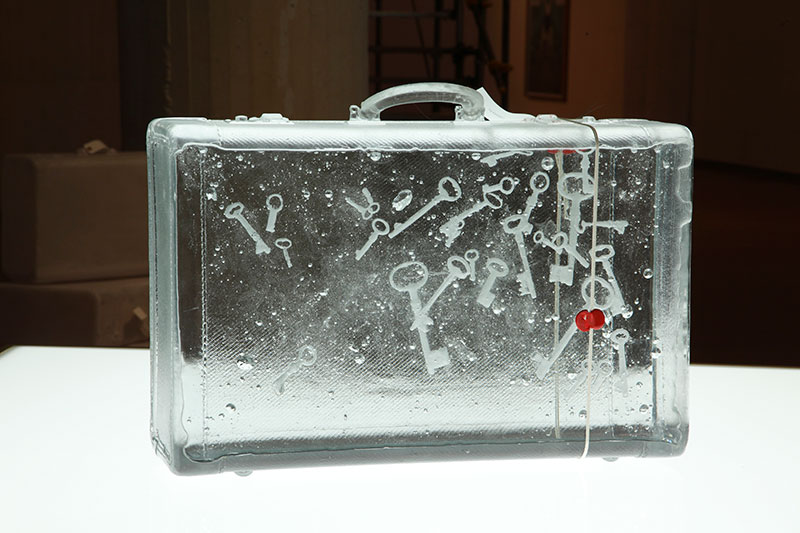 [mé]
Artist collective presenting works that endeavor to offer an immersive insight into the uncertainties of the real world. For [mé] the likes of technique and genre are of less importance than situation and path followed around the exhibition, including elements such as the gallery space, and audience. Their approach to the creative process is one of teamwork that utilizes the individual characteristics of the current principle members (artist Haruka Kojin, director Kenji Minamigawa, and illustrator Hirofumi Masui), combined with the exploration of relationships that will enhance ideas, decision-making, the refining of partnerships in bringing the work to fruition, and a shared creative consciousness at a spiritual level. Their solo shows including "Unreliable Reality – The Where of This World" (Shiseido Gallery, 2014) and "Obviously no one can make heads nor tails" (Chiba City Museum of Art, 2019), as well as their Utsunomiya Museum of Art outdoor project Day with a Man's Face Floating in the Sky (2013–14) and participation in the Saitama Triennale 2016 have drawn significant public interest.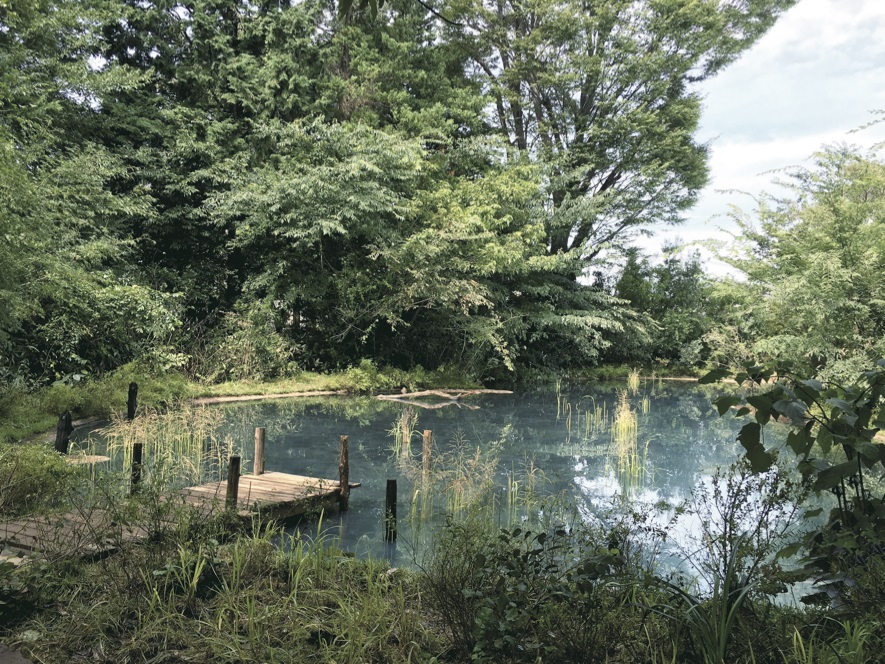 Artists' comments
About IMPETUS
Hiroshi Sugito
"The fruitless goes on to become a luxury."
Thoughts on "This New World"
I think the fruitless goes on to become a luxury. I hope our society will not become one that deprives us even of such indulgent interludes.
Inspiration from the collection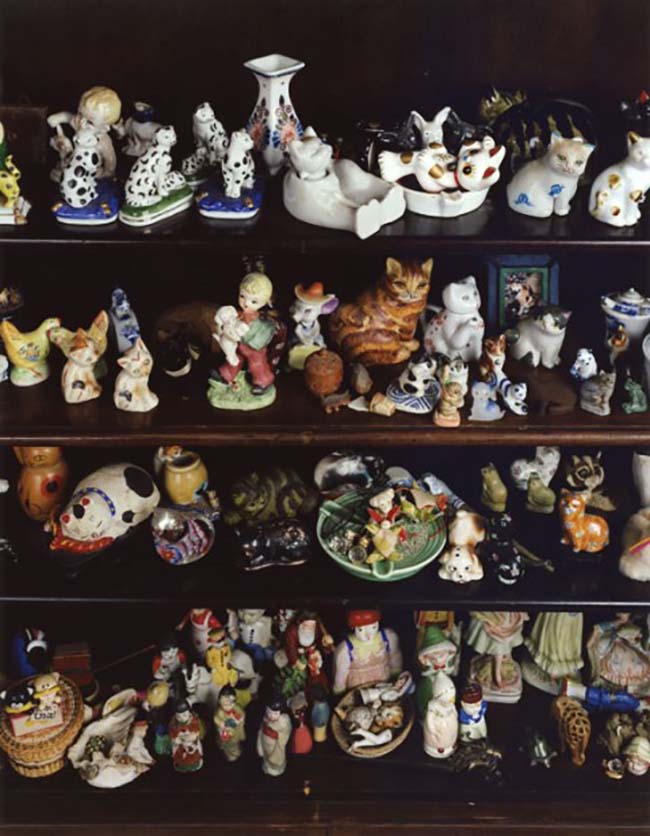 Naoya Hatakeyama 《Akasegawa's Atlier》2017
This spring when things had settled down a little, at a time when I was also tidying up around the place, I was deciding whether to put away stuff I didn't need, or throw it out, in order to leave just the bare minimum required in my limited living space. I think I was in the process of choosing things to leave out in my room, when it struck me there were some odd objects that I had unconsciously assumed to have a fixed position, which had in fact just been sitting where they were for years, untouched, with not so much as a glance from me. Before scrutinizing this photo as a work, I had this feeling of being made to identify, in a no-nonsense manner, the strange stuff on my own shelves, and it was with strong echoes of this that I selected it.
About the work Object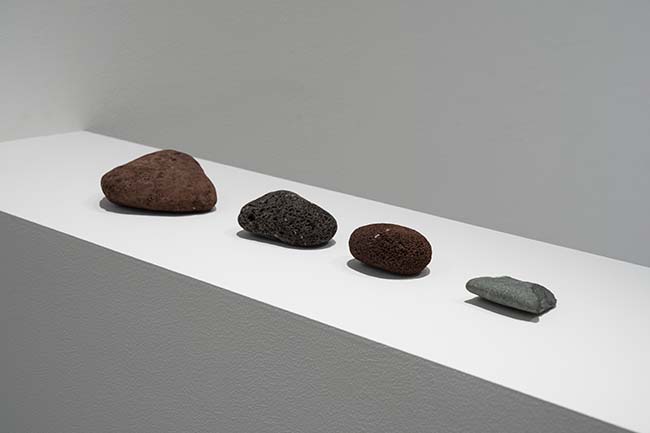 ① Hiroshi Sugito《Object》 2021
I've brought along some stones that are not a work of mine but sit on my shelf and are not especially essential to me, but which I have left there for years, unable to bring myself to discard them. A new space has now opened up on that shelf, and if there is nothing to fill it, I imagine these stones will end up back there. I know that to seek new worlds one must start by shedding something, but I suspect I'll be returning them. Thus pondering if maybe this is what is meant by a collection, I find the empty space on top of the long stand starts to look like a new world.
Ryuji Nakamura
"To create relationships within the space."
Thoughts on "This New World"
Forced into an abrupt volte-face in values, we find new values emerging and diversity gathering pace in what could be described as a kind of shock treatment. Yet rather than moving ahead rapidly by accident, I'd prefer the world to move forward with the mechanisms and tolerance to generate diverse values on a more ordinary basis.
Inspiration from the collection
With no knowledge of the Tsubaki-kai works, I started by looking through the list of over 500, but failed to identify any leads, so while viewing the works was obviously a valuable experience, so was the actual process of looking for leads. In the Tsubaki-kai shows, the same artists exhibit over a number of years, so each artist has multiple works in the collection. I was making my selections by perusing this huge list and gradually narrowing it down, so inevitably, rather than a stand-alone work, what emerged was the stance and approach evident in several of each artist's works, and I found myself interested in how this looked and felt, quite apart from the artist's actual intent.
Particularly striking from this perspective were the works of Yoshitatsu Yanagihara, Mitsuko Miwa, and Rei Naito. I was intrigued by the way these artists kept repeating the same motif over and over. Though unfortunately I've been unable to display Yanagihara's work on this occasion, he for example spent five years making sculptures of doves. Examining Yanagihara's work in the context of the relationality of multiple works, to find out what he saw in his long acquaintance with these quotidian, at first glance indistinguishable birds, I felt this to be a work that truly sparked the imagination.
Miwa has produced paintings of the same woman's face, painting them in a virtually identical fashion on each occasion, merely altering the way the image is cropped. They are fascinating works, with an edited look despite being oil paintings, painted on the assumption that there would be multiple versions, and as if the artist herself is observing the effect of this relationship.
Naito makes legions of small figures carved in wood that are too small to put on display, and fragile and unreliable in their material qualities, yet that very minuteness and fragility draws the viewer's awareness to the size and hardness of the location in which they are placed, making this to me a very spatial work.
For Miwa's work, I chose a group of paintings of a woman's face that would show the connection between works in the series; for Naito's I chose a single wooden figure to emphasize the connection with space. Hopefully viewers will also look at the works, and feel and think about the nature of the relationships in each.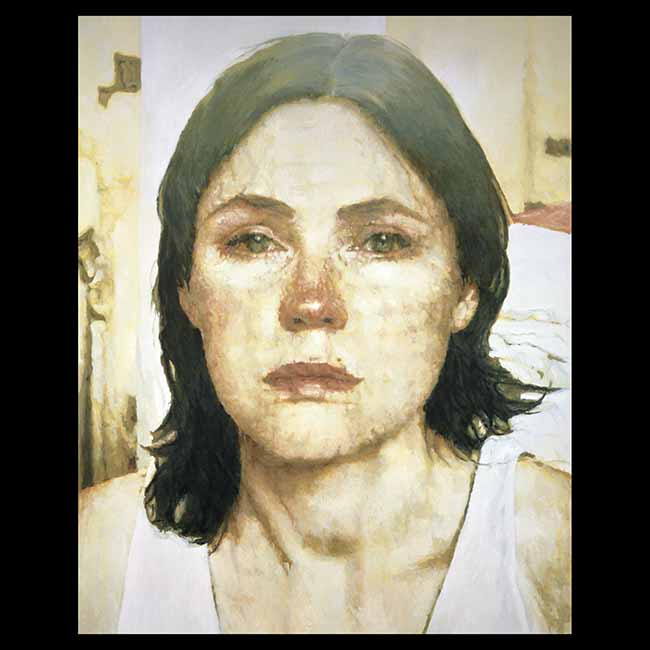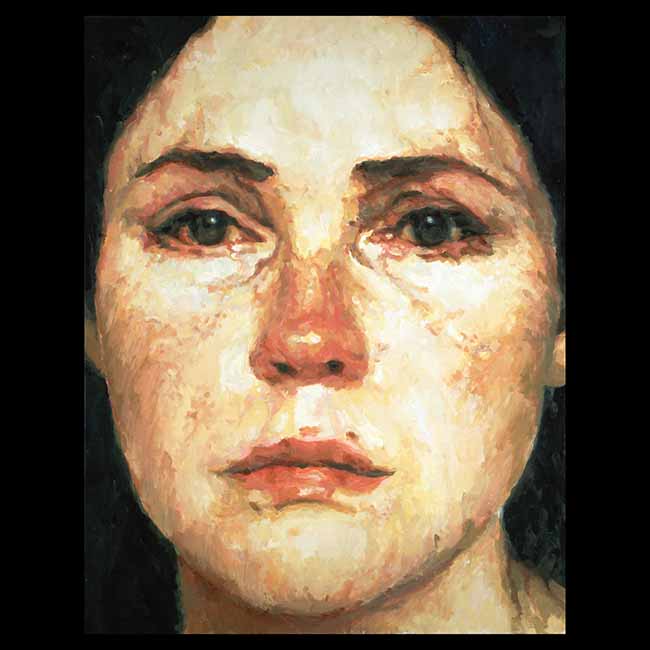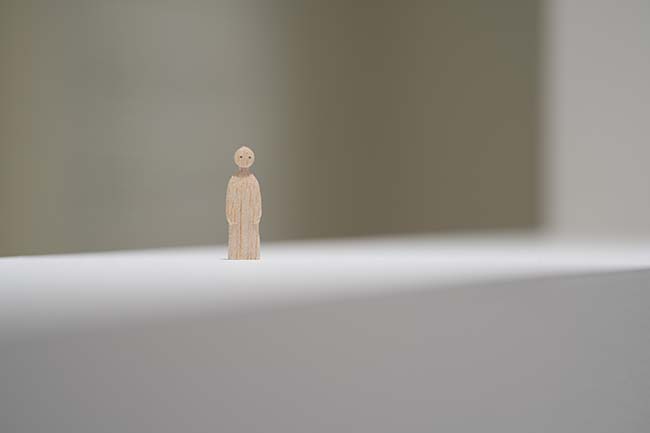 About the work Relation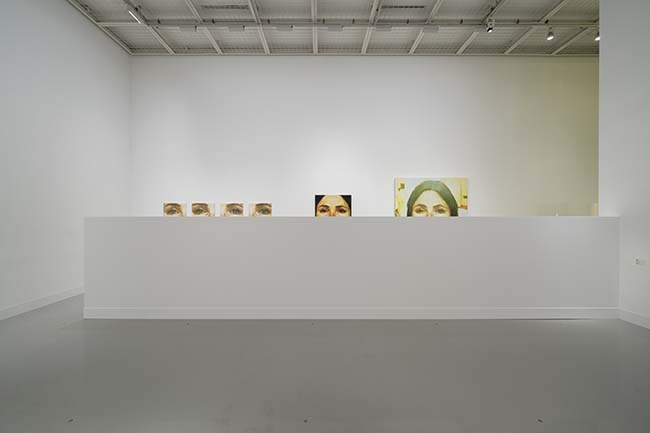 ③ Ryuji Nakamura《relation》 2021 wood, plywood, putty, paint etc.
Feeling that the works by Miwa and Naito would draw the viewer's attention to relationships, I came up with a display that would create relationships within the space. Specifically this meant erecting a wall 1.55m high and 8.14m long. So that it feels like a wall constructed simply to partition off the gallery space for an exhibit, I have made it the same material and color as the gallery walls, and positioned it quite casually. The wall, works by Miwa and piece by Naito appear to be standing alone and unrelated to each other; my hope is that those who visit will find various relationships between them, and thus create landscapes and sensations of their own.
In everyday life we too frequently focus on objects, and I believe if we were to shift our focus slightly to observe things in terms of the gaps or relationships between objects, different values would start to emerge.
Nerhol
"The survival skills to become naturalized in a new place, and put down roots there."
Thoughts on "This New World"
We thought perhaps we'd think of something as we went about making the work, because, to be honest, at the start we had no idea.
We too in our works have tended to choose themes such as historical phenomena, or situations where these have merged entirely with the everyday, and also wonder how much impact the coronavirus will continue to have on day-to-day living. It's likely some aspects of the pandemic will be forgotten. Hopefully through our work for Tsubaki-kai we can turn our gaze to this, and contemplate the state of gestures toward a new world.
Inspiration from the collection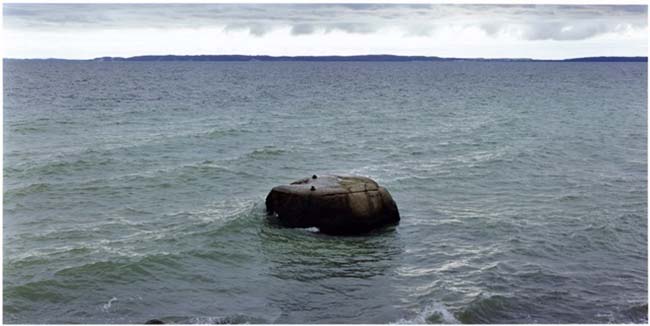 Naoya Hatakeyama 《Findling -Klein Helgoland, Sassnitz, Rügen》2009/2015
The boulder in Naoya Hatakeyama's photo is known in geological terms as an erratic, and has been carried to its location by glacial flow, and left behind when the glacier melted. Transported some distance, it is of a different rock type to other boulders nearby. In Japanese such rocks are also known as "strays" or lost stones, but for the title of his series, Hatakeyama chose the word "findling." According to his text1, the "find" of "findling" comes from the verb finden meaning in English to find, and is German for an orphan, or foundling; a name apparently given to these boulders as research revealed their origins and a connection grew between boulders and humans.
We recently learned that Japan also has large boulders of this sort, in this case washed up on shore by tsunami waves. Many are found in coastal and inland areas of the Sakishima Islands of Okinawa, mostly, it is said, deposited on land by the devastating tsunami following the Yaeyama earthquake of 1771. These boulders also have affectionate local nicknames, with some also having divine status, or forming the foundation of stories in the islands' oral tradition.
To us Hatakeyama's work seemed to trace centuries of human engagement with the workings of the natural world. Some of the boulders photographed have sturdy bolts attached, perhaps to moor boats, or hold signs. How do these rocks, transported here by the mighty force of nature, relate to humans, and vice versa, and what further scenarios involving them will emerge in future? We sensed here a mysterious power evoking myriad stories. That said, this is not simply some "man vs. Nature" relationship.
Hatakeyama's "CAMERA" series meanwhile, also presented at a previous Tsubaki-kai, consists of a row of works in which the light from a lampshade in a hotel room is used to illuminate the ceiling. One senses a relationship between things already there, and human, either as temporary visitor or person with roots in that place, that is as solidly capable of anticipating the future as it is of evoking the idea of traces, or history.
1 "Tsubakikai 2015 – Shoshin," exh. cat., p. 49.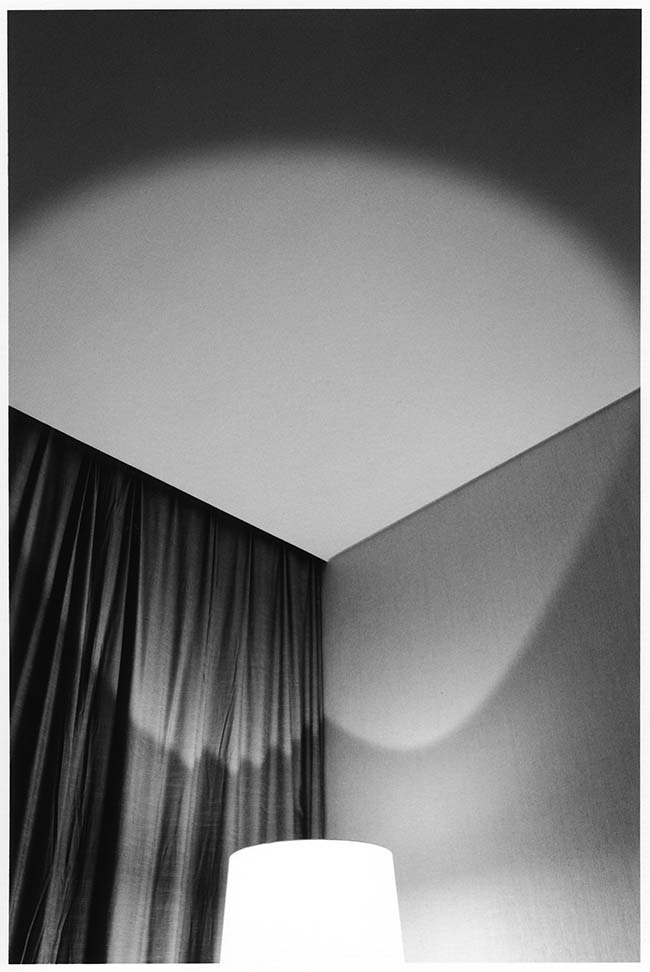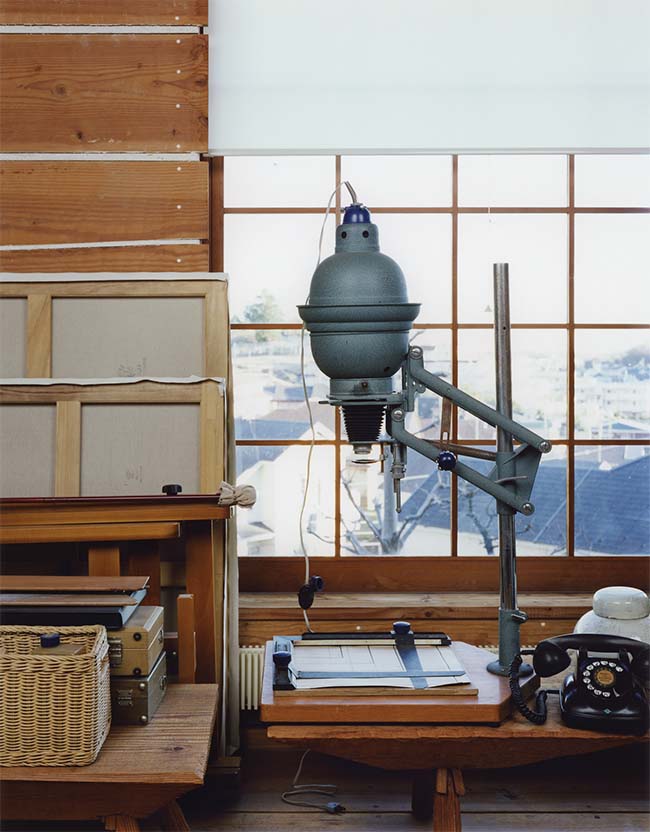 About the work Sonchus asper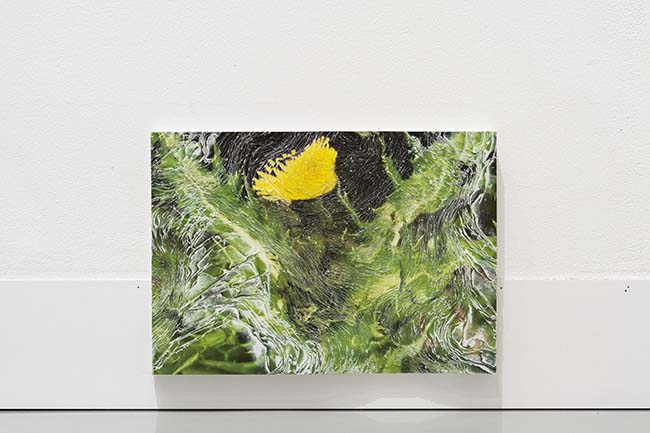 ④ Nerhol《Sonchus asper》 2021 Inkjet Paper
The weed Sonchus asper (oni-no-geshi/prickly sow thistle) is European in origin, but now distributed all over the world. It is commonly seen at roadsides, and produces a yellow flower resembling a dandelion, but the leaves have a tougher appearance than dandelion leaves, are darker and have prickles, giving the impression of a rather more robust plant. Sonchus asper was first found in Japan in 1892 as an accidental import, twenty years after the founding of Shiseido, and has since spread all over the country, thanks to its superb ability to adapt to every environment from cultivated field to orchard, grassland, lawn, roadside, and waste ground.
A team of researchers including from Oregon State University recently revealed that marine life carried from the waters off Japan was still turning up on the West Coast of the United States several years later. According to the paper published in Science, species including shellfish, sea anemones and crabs had been carried on some of the vast amount of flotsam generated by the Tohoku tsunami of 2011, all the way to the Americas. Even just the species known to have arrived amount to almost three hundred. This means that ecosystems of different creatures living symbiotically arose among the floating debris, with at least three generations surviving there.
If each of us were destined to live out our entire lives in a limited space, how ought we to do so? This feels like a good place from which to begin looking at the world. The flora and fauna of Japan and elsewhere will after all continue to breed, and even if the result of something accidental, there are probably many things with the survival skills to become naturalized in a new place, and put down roots there.
Futoshi Miyagi
"If only the world could have patience, and the generosity to listen to someone who has lost their way, to await stories yet to be told."
Thoughts on "This New World"
In Rain Kudo's novel Tsurara no koe (Icicle voices) featured in the April 2021 issue of literary magazine Gunzo, was the line, "Because my own disaster could not be called a disaster." The novel speaks frankly of guilt and distance still felt ten years after the event due to experiencing the Tohoku disaster in a location not damaged by the tsunami.
If only the world could have patience, and the generosity of heart to listen to someone who has lost their way, to uncertainty, pain and sadness they feel is insignificant compared to that of others; to await stories yet to be told.
Inspiration from the collection
2020 was spent writing and revising Ikuyo (How Many Nights) (June 2021 issue of Subaru), a novel set in wartime Tokyo. What I realized during the writing was how little I knew of what the war was like in the capital. Having been born, raised and educated in Okinawa, conducted research there, and occasionally listened to the stories of those who had lived through the war, I had long imagined what the war must have been like in Okinawa. On the other hand, I had hardly ever imagined what war would have meant in the capital. I cannot for example imagine the cold of the Tokyo winter in March 1945.
The streetlights were removed from the streets of Ginza, and the beauty equipment confiscated from the Shiseido salon, all for use as war materiel/materials. At the roadsides were shallow uncovered air-raid ditches, offering protection in name only. I learned these things as I did my research. But inevitably, the finer details are lost. There are details of the landscape that remain elusive no matter how much research one does.
I was drawn to Zon Ito's Identified Creatures of Ginza and Unseen Field by their titles, and the manner of their storage. Identified, and unseen, yet they were kept in the same case. There are two see-through media players, with "Identified Creatures of Ginza" and "Unseen Field" written on them in drawing-like fashion. The visible/identified and invisible/unseen occupy the same space. Casting doubt on the detectable and the undetectable was also something I could relate to as I wrote Ikuyo, and in connection to what we were dealing with during this year. In Identified Creatures of Ginza various creatures form constellations only to disintegrate and morph into other forms. In Unseen Field, the appearance of the land changes as if history is being unraveled, or updated, by war, disaster, development. To me this resembled the landscapes I had imagined, or missed, while writing Ikuyo, and how they changed. I suspect it takes a very long time for the visible and invisible to join together as a landscape.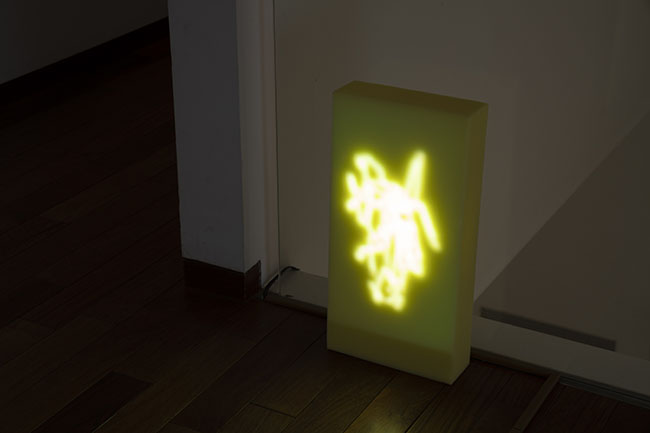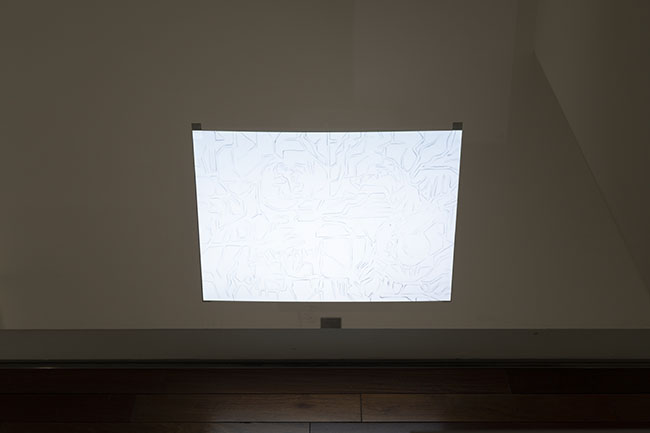 On the work Forgotten Scent / Letter to be Written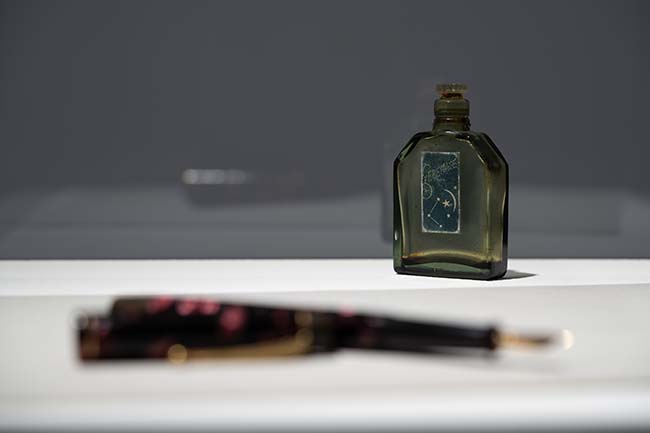 ⑦ Shiseido 《Perfume Serenade》
In Ikuyo two girls called Chiyo and Yukiko spend the night together in wartime Tokyo. Yukiko is wearing the perfume "Serenade" by Shiseido. Chiyo takes a liking to the scent of Serenade, because it has the same name as a favorite song of hers by Schubert. The bottle features moon and stars, joined by lines in the manner of constellations, but never forming perfect constellations.
As Japan's war takes a turn for the worse, Yukiko returns to her hometown of Shingu. On leaving the capital, she passes her bottle of Serenade on to Chiyo with the words, "I only ever wore it when I was with you anyway." As Tokyo comes under increasingly ferocious aerial attack, the Serenade remains unused. One day, the air-raid siren sounds, and Chiyo, at home, grabs her bag of essentials and heads for the air-raid shelter in the garden. In the bag is the Serenade. In the dim light of the shelter, Chiyo wonders if its fragrance will gradually dissipate without ever being used again.
Shiseido no longer has the formula for Serenade. I have no idea what its scent was like. The fragrance that connected two people in wartime Tokyo is no more. But that fragrance named for a song sung at night definitely did exist. Quite likely there is someone, somewhere who knows what it was like. Perhaps one day the formula will be rediscovered, and the perfume recreated. Or perhaps a new Serenade fragrance will be born.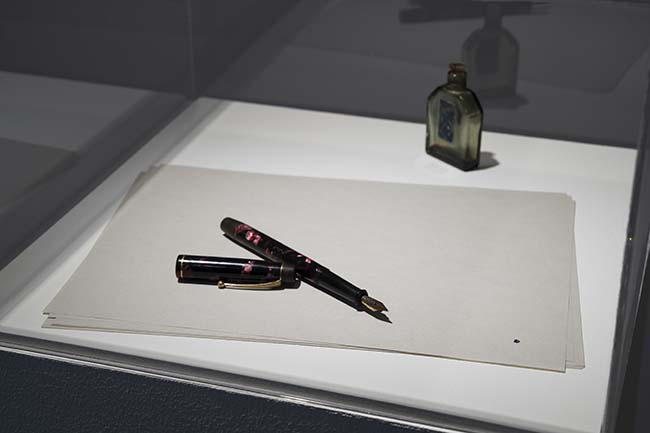 ⑧ Futoshi Miyagi《Forgotten Scent / Letter to be Written》 2021
Yukiko, living in Shingu, writes to Chiyo. Perhaps that letter will remain in Yukiko's hands, never to be sent. Chiyo also writes to Yukiko, but fearful of the censor, cannot write what she truly wants to say. How many letters are never sent, staying in the hands of the writer, or discarded? After the war, what kind of letter might Chiyo write to Yukiko? Putting fountain pen to writing paper, would she wonder how to start? Would there be so much to say, that she'd pause, pen hovering over the paper? Perhaps a tiny spot of ink, like a star, would stay there.
Aiko Myanaga
"To be calm, generous, more flexible."
Thoughts on "This New World"
A world in which we can see each other's faces clearly without masks, and hear each other's voices directly: thanks to the pandemic we may have found it possible to do a great deal without meeting in person, but I suspect what we have learned most of all is how precious it is to see each other in the flesh, and sense things directly. When fear and insecurity strike is exactly the time to be calm, generous, more flexible. I'd like to live and work in ways that allow each of us to mindfully confirm our place in the world.
Inspiration from the collection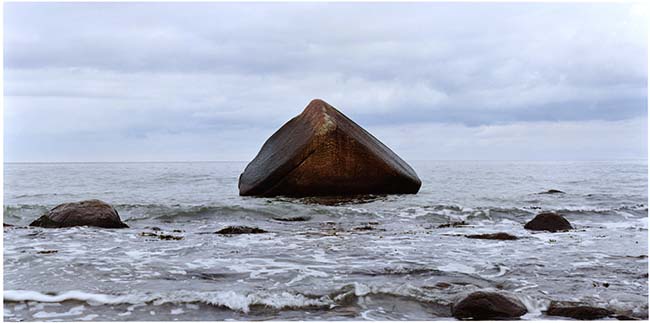 Naoya Hatakeyama 《Findling -Schwanenstein, Lohne Rügen》, 2009/2015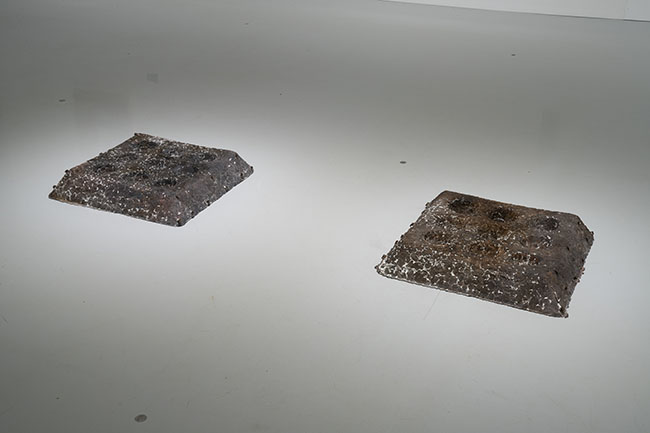 ⑨ Noe Aoki 《Where water remains》2005
I chose Naoya Hatakeyama's Findling – Schwanenstein, Lohne Rügen and Noe Aoki's Where water remains with the idea of mixing in my own work and presenting the resulting relationship. Findling – Schwanenstein, Lohne Rügen is a photograph of what is known as an erratic boulder. Also referred to in Japanese as "lost stones" these are boulders surrounded by glacial ice and carried along by the glacier until reaching their final destination. One of the ideas in my own practice is that of realms that change and persist, and the sight of these erratic boulders morphing and persisting struck a quiet chord with me. This boulder is like a time capsule awoken from a glacier, and it occurred to me that the way a stone geologically different to the place in the photo continues to spin a new strand of time there, is also similar to a person's life. I was struck by the urge to combine this work with a reforming naphthalene sculpture. Another inspiration has been Noe Aoki's Where water remains. Aoki's works are invariably graceful and generous in form. One marvels at how she manages to take such hard materials and clothe them in such soft gestures. I wanted to present Aoki's work on the same lineation as my own, from the perspective that it has the same sculptural element, and though the material is totally opposite to naphthalene in nature, it captures the sculpture with wonderful suppleness. So if I were to display my own work between these two: Findling – Schwanenstein, Lohne Rügen and Where water remains, I thought perhaps I should do a naphthalene sculpture resembling a message in a bottle drifting on the ocean. The idea of arranging the three in a kind of "aquatic triptych" in Ginza, which once was ocean, holds great appeal.
* Miyanaga discusses the CAMERA works in the artist interview on the website.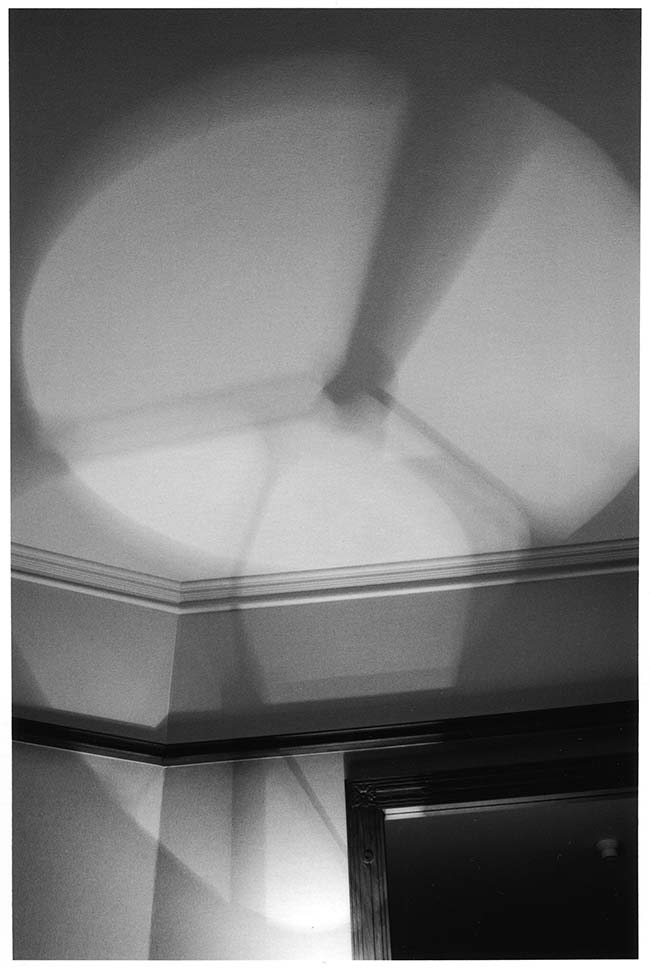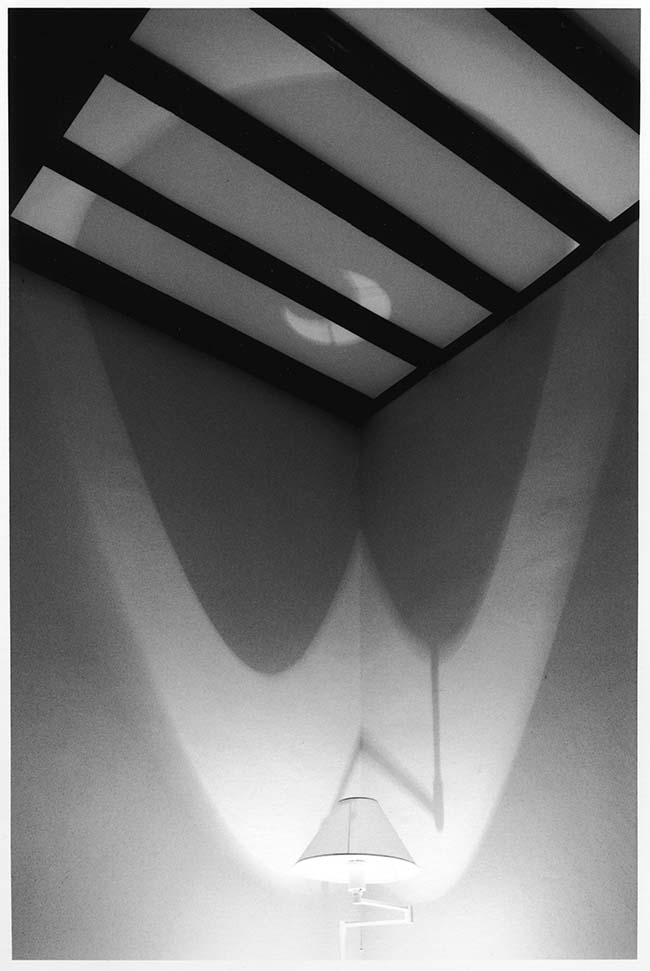 About the work Message 2019/2021
For SHISEIDO THE STORE in 2019 I assisted with a window on the theme of memories of water. After the display was removed, I took the crystals that had reformed on the inside of the glass case and stored them away at home, along with the bottles.
For this Tsubaki-kai I decided to take this work sealed away at a time when we most of us had never even heard of coronavirus, and present it anew, with an added message. In the bottles I'd place a pottery shard picked up near the sea. I've no idea where this piece of pottery was carried from, what form it previously took or how it was used, but it is a message from the ocean halfway to becoming a stone, just a subtle remaining hint of design telling us that it was pottery. The bottle containing the shard will link the time the work spends developing in Ginza, to the next time it is shown. The planet we inhabit now is an uncertain and unreliable place, but I believe that amid this scene with all its own metamorphosis, people too continue to be supple. My hope is that people will sense a gracefulness shared by all three works, and the individual certitude of each. The other day my five-year-old daughter looked up at the sky and said, "If I could do magic, I'd turn myself into water!" Changing shape to go anywhere, achieving an easy affinity, being able to help people: here in the early summer of 2021, the imagination runs to many things.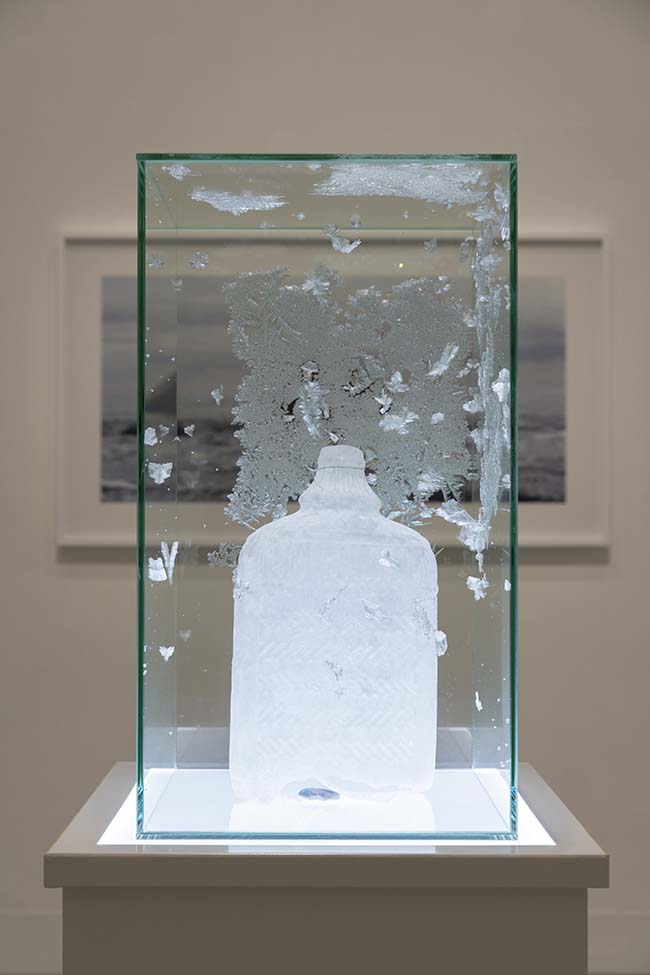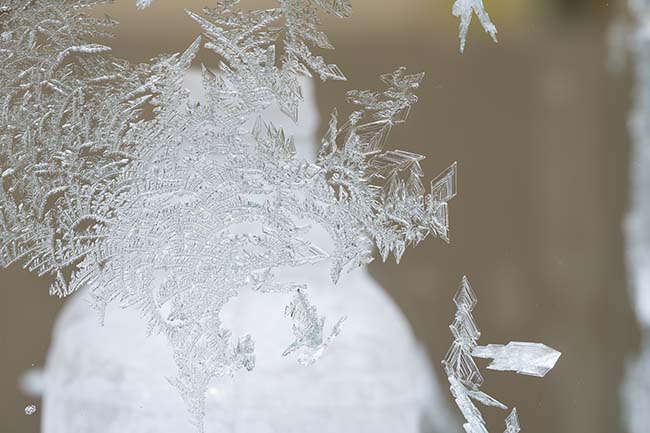 ⑩ Aiko Myanaga《message 2019/2021》 2021 Naphthalene, stone (piece of Porcelain), mixed media 2021
[mé]
"The power of looking"
Thoughts on "This New World"
Things like medicine and economics are indispensible to our lives, yet at the same time offer only one sort of viewpoint or guide. We believe the coronavirus pandemic has had an impact far greater on our world, and our sensibilities when it comes to apprehending that world, than anyone has yet identified, and anticipate that the as yet invisible potential of this development will come strongly into play, spawning a multiplicity of expression. We too hope to develop in new ways, taking our cue where possible from personal experience.
Inspiration from the collection
We chose Genpei Akasegawa's Hagu I and Hagu II. Initially we felt some trepidation about referencing Akasegawa's works, but viewing them in the gallery's storage we were struck by their sheer power, and made our choice pretty much intuitively. These seemed solid examples of work by an artist not afraid to square up to this very simple act of "seeing a thing and grasping it."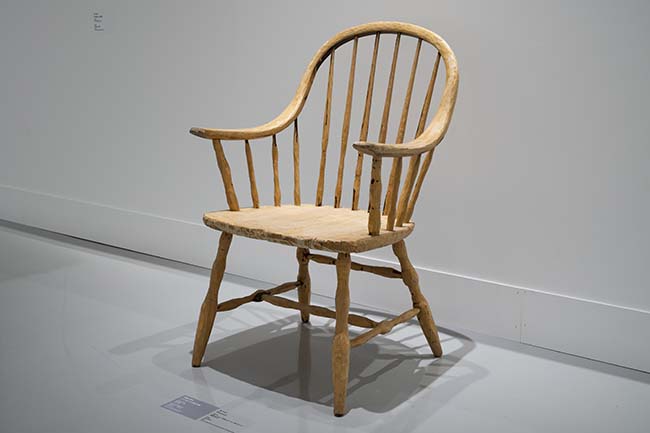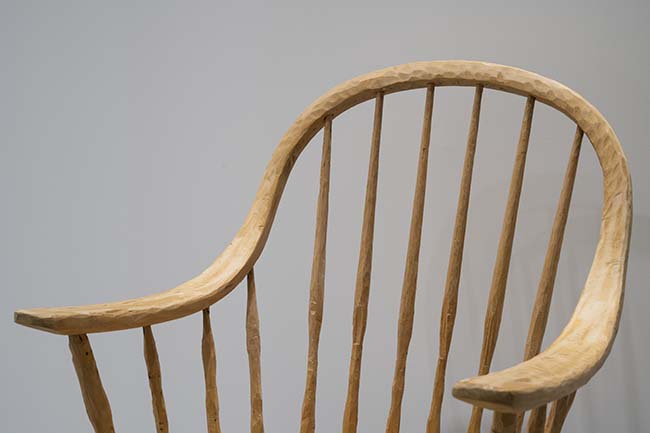 ⑪ Genpei Akasegawa 2 chairs from 《Hagu II》 2013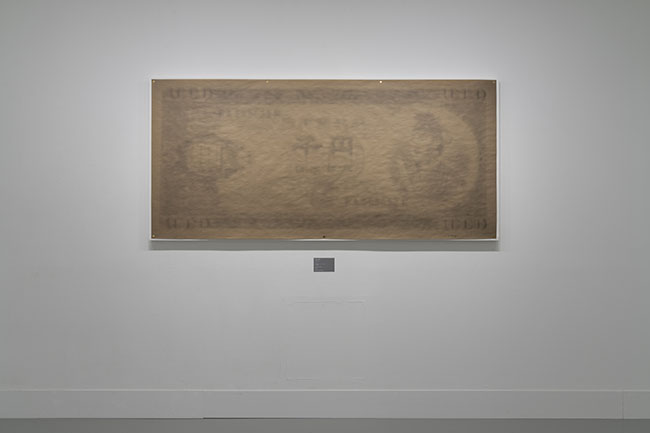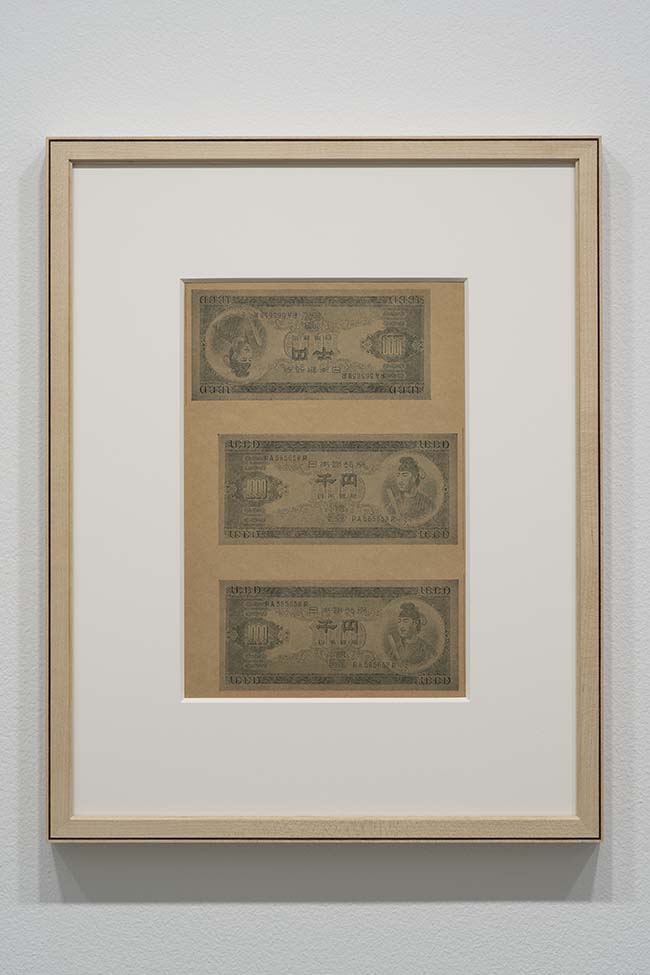 About the works matter α #Ⅶ and Position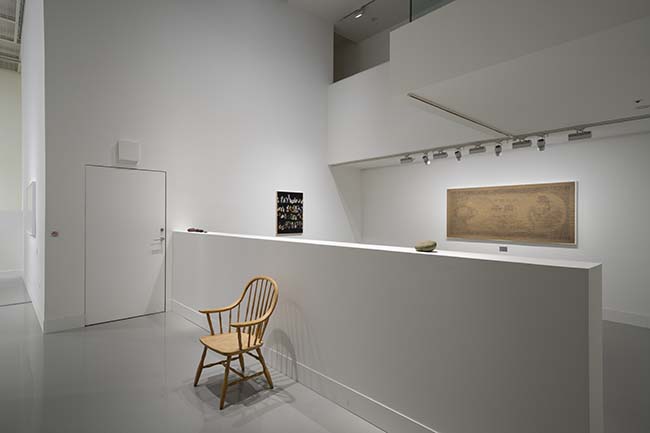 ⑭ [mé]《matter α #Ⅶ》 2021 Sand, stone, rock particles, etc
Hagu I is a two-dimensional work consisting of an enlarged photo of a 1000-yen note, shot by Genpei Akasegawa. This work by Akasegawa calling into question the fabricated structure of banknotes, whose value lies not in the original but the duplication, went on to generate immeasurable value. [mé] are currently experimenting with making a work that in a sense takes the completely opposite viewpoint from it: matter α, which endeavors to look at the world in a different way by taking an ordinary stone lying on the roadside, and making duplicates of this meaningless original. Though matter α has a different perspective, to our minds it shared something fundamental with Akasegawa's work, so we decided to position it alongside Hagu I.
Similarly, we thought Hagu II was endowed with the ambiguity of the inevitable charm of an old and useless an object, in contrast to its value and function in this case as an item of furniture. By adding what for this chair was a layer of "brand-new damage," Akasegawa seems to have been trying to further emphasize this reversal of meaning.
To this [mé] has added a further layer calling into question "the eyes of the viewer seeing that" and "the unique fact of having seen." Without revealing details, Hagu II is being moved around at irregular intervals by staff during this exhibition, raising the possibility of two separate chairs being swapped in and out.
In Hagu I and Hagu II, made by Akasegawa in his later years, we sensed not only the linguistic meaning of the works, but a force for which there are no words, like a scene from a fever dream. We don't know whether the works by [mé] will also offer this, but what we do know is that this force only arises in tandem with the senses of the person in front of a work, viewing it. We hope that it will lead those who make their way to the exhibition to discover new kinds of scene.
We believe that "this new world" is one that will show us the power of looking.
①–⑭ Photo by Ken KATO
Questions and Comments about Tsubaki-kai 8
Exhibition Information and Access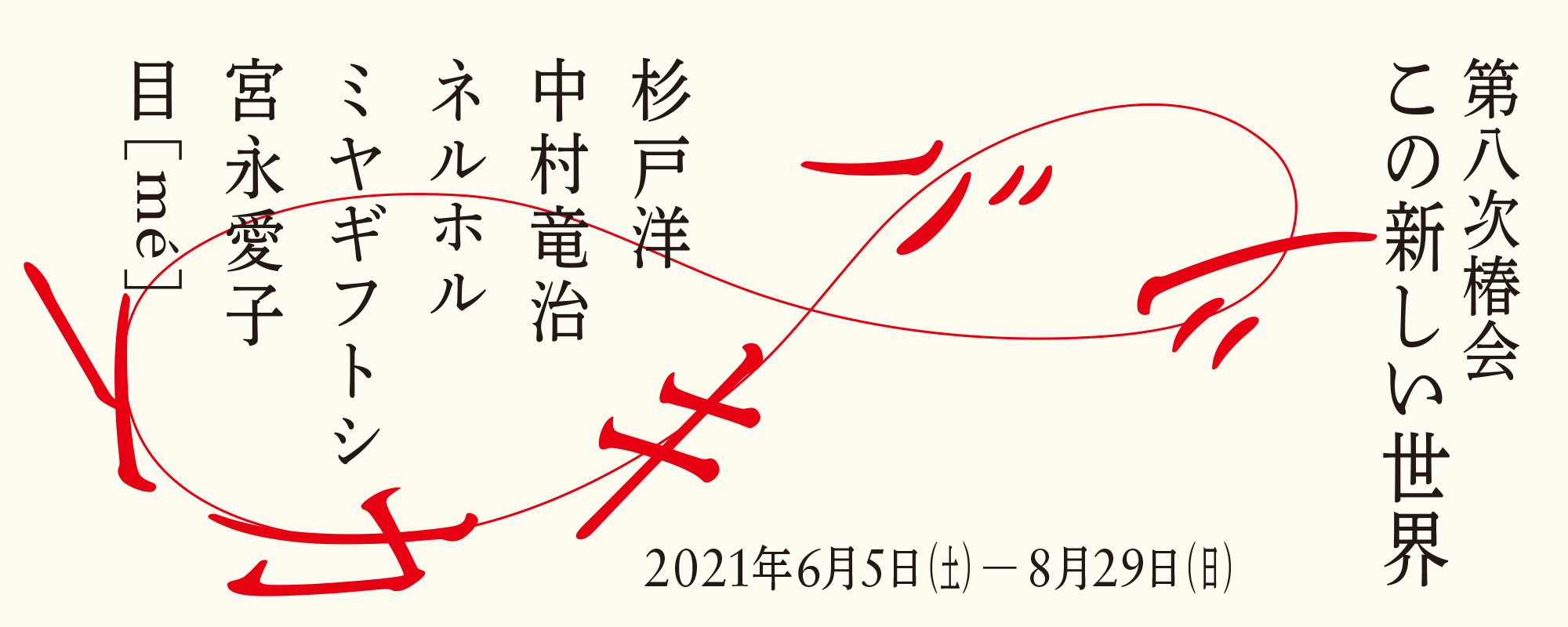 Tsubaki-kai 8: "This New World" Exhibition Information
Organized by

Shiseido Co., Ltd.
Dates

June 5 (Sat) – August 29 (Sun) 2021
Venue

Shiseido Gallery
Tokyo Ginza Shiseido Building B1, 8-8-3 Ginza, Chuo-ku, Tokyo 104-0061
Tel.

03-3572-3901


Fax. 03-3572-3951


4-minute walk from Tokyo Metro Ginza Station Exit A2
4-minute walk from Tokyo Metro Shimbashi Station Exit 1
5-minute walk from JR Shimbashi Station Ginza Exit


URL
Hours

Weekdays 11am–7pm, Sundays/holidays 11am–6pm
Closed

Mondays and August 16 (Mon) – August 23 (Mon), 2021
Admission

free
*Content and schedule are subject to change depending on the status of Covid 19 infection.
Information on related events will be posted on the Shiseido Gallery website as it becomes available.